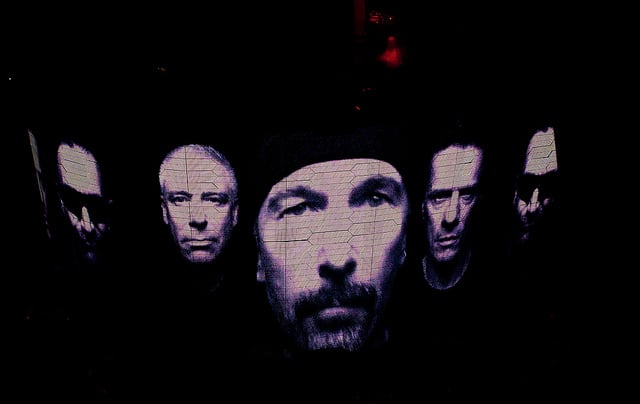 Taking a night off from the American leg of their huge tour celebrating 30 years of their iconic album 'The Joshua Tree', U2 paid a visit to the Jimmy Kimmel Show last night for their only US television appearance promoting their tour. A vast amount of topics were discussed ranging from Bruce Springsteen to Donald Trump.
Kimmel explained that while at the show of U2 and Springsteen he feels as if he is at a 'Religious Experience'. He went on to ask if Springsteen had any influences on the band.
Bono spoke of the mutual respect and admiration between both U2 and Springsteen revealing that they like to refer to him as 'The Boss' as they don't have a boss figure in their band. He  went on to share the important advice that The Boss had once given them.  Although they were going against his advice,  Bono revealed his advice he received during one of their many encounters,  whispering 'don't do television.' 'Springsteen  advised them  'you should never give another person the opportunity to turn you up or down! They could be making a cup of coffee and your out there telling your story.'  In their defense, U2 only slightly went against his advice as this was their only television performance in the US.
During their appearance, Bono voiced his worry about the priorities of US President, Donald Trump as a leader. "I don't think there is any evidence in his life that he has the people who are hardest hit in mind".  U2 also briefly spoke of on the recent upsetting events in Manchester,  referring to those that conducted the attack stated "They hate music. They hate women. They even hate little girls. They hate everything we love".
Towards the end of the interview U2 also gave a surprise, intimate performance of "I Still Haven't Found What I'm Looking For'.  As the band spoke about Joshua Tree's iconic visuals, a back line was suddenly wheeled out and the band launched into a the surprise performance. "We want to play for you now a gospel song with a restless spirit," Bono said in introducing the performance. The band was accompanied by a gospel choir which  stood in the audience, with the choir contributing to an interpolated new section of the song.