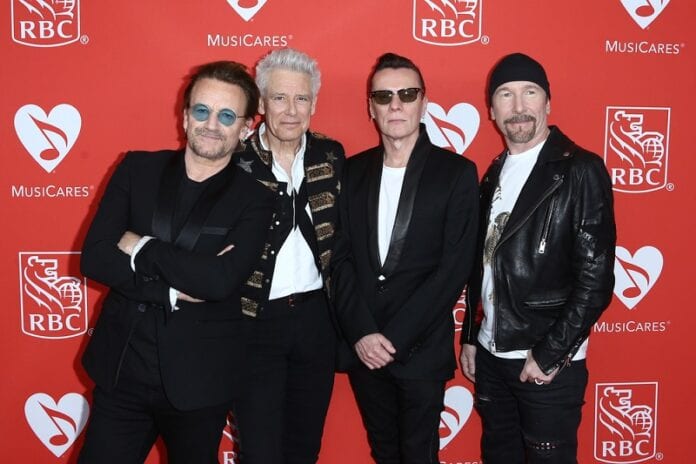 U2 has announced that they are teaming up with YouTube to stream some of their most iconic concerts in a new four-part series called 'U2: The Virtual Road'.
All four concerts will include a special performance from other artists and you can check out the trailer below.
The series kicks off on St. Patrick's Day with U2's classic concert from Slane in 2001. The shows at Slane that summer were recorded for a DVD but this is the first time it will be available for free digitally.
That summer, U2 made history by becoming the first band to play two headline shows at Slane in the same year. The first concert took place a week after the death of Bono's father.
The second show took place on the same day as Ireland beat the Netherlands on their way to the World Cup in 2002.
Dermot Kennedy will open the show with an exclusive solo performance recorded earlier this month outside Los Angeles.
The second episode will stream U2's concert from Red Rock Amphitheatre in 1983. This show was from the 'War' tour.
This tour was important in U2's history as it helped established them as one of the best live acts in the world.
Fontaines D.C. will open the show up with a performance from last year.
On April 1, U2's Mexico City performance at Foro Sol Stadium from their PopMart Tour in 1997 will be broadcast as Popmart: Live From Mexico City. It will be preceded by a special one-off performance by Carla Morrison.
The last episode airs on April 10 and is one of U2's most poignant concerts they've ever played. Their performance from their iNNOCENCE + eXPERIENCE show in Paris will be streamed.
This concert saw the band return to Paris less than a month after the city endured multiple terror attacks in one night.
U2 paid tribute to the victims of the attacks and they were joined by the Eagles of Death Metal who were playing the Bataclan when it was hit by a group of terrorists.
Also featured in this performance is a powerful cover of Patti Smith's track 'People Have The Power' and French band Feu! Chatterton will be on support duties.
In a statement released on their website, the band said:
"Every show is memorable for us but these four particularly so… It's exciting to be on the road again… Embracing all the wonder of the virtual road… And especially exciting to be joined by such a brilliant line-up of fellow travellers in Dermot Kennedy, Fontaines D.C., Carla Morrison, and Feu! Chatterton."