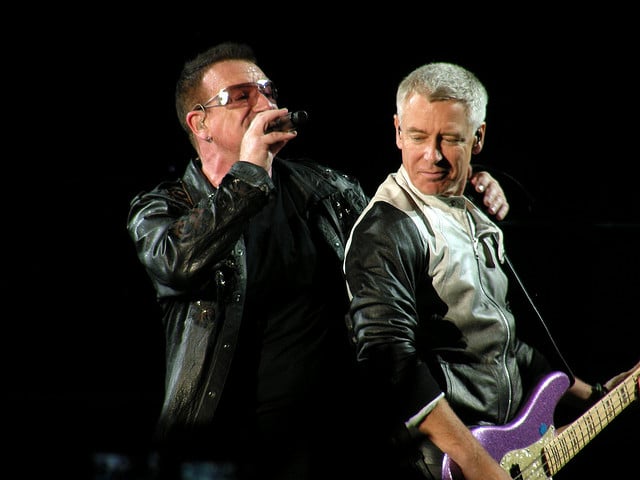 There's no need to kick a man when he's down, Bono and U2 have topped GQ's list of top 30 least influential people of 2014.
It's an award nobody wants to win. It has certainly been a rough few months for the Irish lads, first they had to fend off an avalanche of abuse over their free album giveaway on iTunes.
Then it was reported that the band might have to delay their upcoming world tour, due to Bono's bike catastrophe. And now GQ claims the Irish rockers aren't relevant anymore.
The magazine describes Bono as 'The Tom Friedman [journalist] of rock', writing the "band collaborated with Apple to strong-arm their new album into your iTunes library without your consent. You couldn't even delete it!"
Don't get the publication started on the album's title Songs Of Innocence, which they simple referred to as "(God, that title)".
But to get the number one spot, you know the criticism is going to get harsh. GQ writes: "The worst part was the way both Apple and U2 treated this, like it was some kind of noble gift to The People; in fact this was a $100 million marketing campaign. Yes, $100 million to turn U2's socially conscious dad-rock into a piece of direct mail."
Other people to make the list included President Barack Obama, actor Zach Braff, The Brazilian World Cup team, Shia LeBeouf and Johnny Depp.
Bono will need three months to recover from his bike accident, while the frontman was cycling around New York's Central Park, he lost control of his bicycle trying to avoid another cyclist and came crashing down on his arm.
Bono underwent five hours of surgery following his bicycle calamity. Rolling Stone reports that Bono suffered several serious injuries from the incident, including a "facial fracture involving the orbit of his eye".
"[Bono] was taken emergently to the operating room…where the elbow was washed out and debrided, a nerve trapped in the break was moved and the bone was repaired with three metal plates and 18 screws," revealed orthopedic trauma surgeon Dean Lorich MD.
Bono underwent "multiple X-rays and CAT scans" following the surgery and will require "intensive and progressive therapy".
A source told the Sunday Independent: "The injuries will take at least three months to recover. Bono plays guitar a lot, and his arm and shoulder will need extensive physiotherapy if he is going to be ready for the tour. It all depends now on how quickly he can recover."