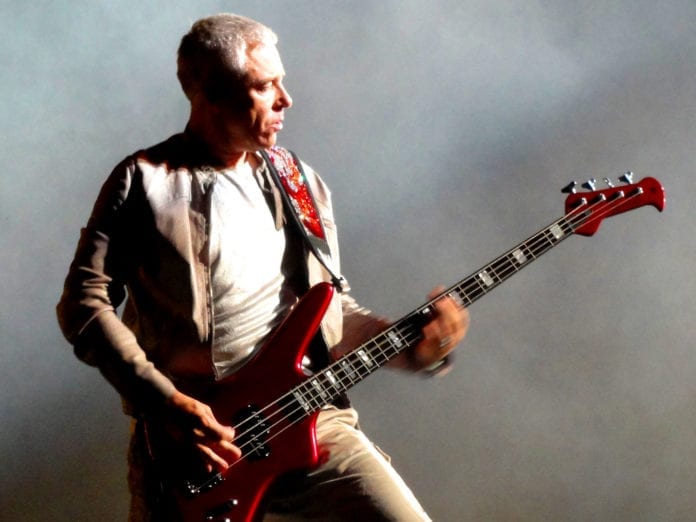 On Monday night (June 26), U2 bassist Adam Clayton was honoured with the Stevie Ray Award for his work with the charity. The organisation is dedicated to aiding the recovery of musicians from addiction. It's a cause very close to Clayton's heart having fought his own demons in the past.
In his speech at a MusiCares MAP Fund concert, Clayton joked, "I'm not used to achieving anything on my own," before opening up about his recovery from addiction, "I'm an alcoholic, addict, but in some ways that devastating disease is what drove me towards this wonderful life I now have. It's just that I couldn't take my friend alcohol. At some point I had to leave it behind and claim my full potential."
Revealing that he previously "didn't think you could be in a band and not drink. It is so much a part of our culture," Clayton said it was Eric Clapton that first told him to seek help. "He didn't sugarcoat it. He told me that I needed to change my life and that I wouldn't regret it." Clayton also described how The Who's Pete Townshend visited him in rehab.
Clayton also revealed how his bandmates were there for him every step of the way, saying: "We have a pact with each other. In our band, no one will be a casualty. We all come home, or none of us come home. No one will be left behind. Thank you for honouring that promise, and letting me be in your band."
He added: "I was lucky because I had three friends who could see what was going on and who loved me enough to take up the slack of my failing. Bono, the Edge, and Larry (Mullen) truly supported me before and after I entered recovery, and I am unreservedly grateful for their friendship, understanding, and support."
https://youtu.be/RxYJsroqWrE
The band are currently touring to celebrate the 30th anniversary of their Joshua Tree album. Their much anticipated SOLD OUT Irish gig is fast approaching. They play Croke Park on 22nd July, bringing them back to the same venue which held the original Joshua Tree Tour concerts in 1987. Noel Gallagher's High Flying Birds will join as support on the night.
If you weren't able to get tickets, fear not. Tune into NOVA next week for a chance to attend this concert of a lifetime. Win tickets! Plus limited edition #Joshuatree vinyl from Lindsey Holmes Publicity Your chance starts MONDAY on the