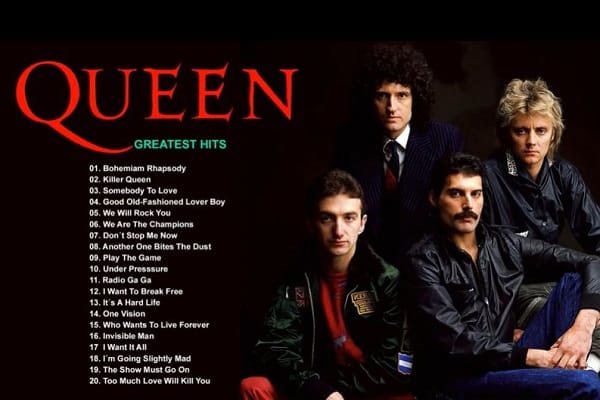 Quuueeeeeeen are the champions, my friends… Queen's blockbuster 1981 collection, Greatest Hits, has been crowned the most-streamed album in the UK from the 1970s, '80s, and '90s. According to data compiled by the Official Charts Company, the album has been recognised as the country's biggest-selling album of all time.
With hit after hit from Bohemian Rhapsody, to We Are the Champions, Freddie Mercury and Co.'s first collection of hits has sold more than 6 million units. Since the album's release, Queen have seen their Greatest Hits stay in the Official UK Albums Chart for an astonishing 973 weeks -peaking at No. 3. The aforementioned Bohemian Rhapsody also had great success with 9 glorious weeks on top of the charts in No. 1 spot.
Coming in at No. 2 on the list of classic albums for the most-streamed studio album in the UK is Fleetwood Mac's 1977 Rumours. The highest charting album from the 90s, 'Oasis' (What's The Story) Morning Glory?' places third on the Official Charts Company's list. The Manchester Britpop era juggernauts make a second appearance in the Top 10, with their debut masterpiece, Definitely Maybe, appearing at No. 6.
Some rather notable rockers make the list, with some mentioned more than once, as seen in the UK Top 40 albums. Nirvana (2), Stone Roses (1), Jimi Hendrix (1), Rolling Stones (2), AC/DC (1), Meat Loaf (3), The Beatles (2), Pink Floyd (1), and Guns 'N' Roses (1) all making an appearance.
Meanwhile, reunited Swedish pop icons, ABBA have taken position in at No. 4 with 1992's Gold – Greatest Hits. The classic album has logged more weeks on the UK albums chart than any other (1,021). Bob Marley and The Wailers 's 1984 hit, Legend, completes the Top 5, while 1977's Exodus reaches NO. 10 and 1978's Kaya comes in at No. 38. See the Top 40 albums of the list by heading onto the Official Charts Company page.