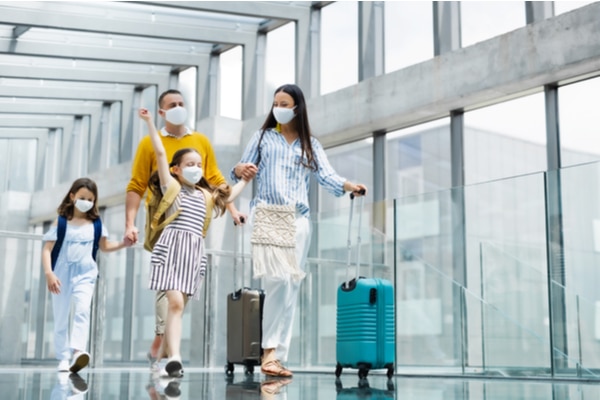 Incoming travelers from the UK must self-quarantine for ten days from their arrival, unless they have received full vaccination. According to reports, Cabinet has agreed proposals requiring this longer period of isolation for vaccinated UK visitors.
The quarantine will end once travellers have received two negative PCR test results on day five and day 10. A person coming into the country from the UK can now isolate at their place of stay, as opposed to mandatory hotel quarantining.
Fully vaccinated travelers also still need to quarantine for five days, only exiting following a negative PCR test on day five. The move comes as UK officials delay reopening society for four weeks, with arrangements expected to last until July 19th.
Speaking on the matter this morning, Taoiseach Micheál Martin revealed the Government continues to monitor the Delta variant of COVID-19. While imposing mandatory quarantine on arrivals from Britain, Mr Martin said the Government were taking "one step at a time".
"The broader picture is that the variant has increased in prevalence in the UK. I think it makes sense that we continue to monitor this, which we will take public health advice as we move along, but so far the reopening has gone well in Ireland".
Speaking in a separate interview, Minister for Transport Climate, Environment and Communications, Eamon Ryan believes two negative PCR tests will be required. The minister also added that we can see international travel restrictions eased by the 19th of July.
"The Delta variant in the UK is a concern. I'm going into Cabinet after this and we're going to be discussing our approach to that. It's likely, subject to Cabinet agreeing, that we will also change our recommendation for people coming from the UK just for this period, because there is a concern about this variant.
"It will be a tightening, where, after being able to release yourself from quarantine after five days, we're going to make that 10 days, on the back of two PCR tests to show negative. And the reason is to just try and hold that back while our vaccination programme rolls-out for a number of weeks – to give us greater protection."
At a press briefing outside Government Buildings, Simon Harris said he believes the proposed restrictions were "proportionate". The Minister for Further and Higher Education explained that fully vaccinated UK travelers will "still be mandated to self-isolate at home", with unvaccinated travellers not only receiving a lengthier isolation period, but requiring two PCR tests.
"We have to be realistic about the fact that we have the issue of Northern Ireland, and that obviously we do have important connectivity issues with the UK that needs to be maintained. But if anything, I think it is very much erring on the side of caution.
"In many ways, what we have going on in Ireland and in other countries is a race between vaccine and variant. At the moment, the vaccine is just about ahead in this country, and we need to keep that."
Harris added that there have been visible signs that vaccines are working, and the government are hoping to "get people back in the sky". As an island, Harris said "we want to resume connectivity, and we know the benefits of vaccination". The minister said it was in his "view that there seems to be a logic that saying if a traveller is fully vaccinated, surely they should have some benefit or bonus than someone who's not fully vaccinated".