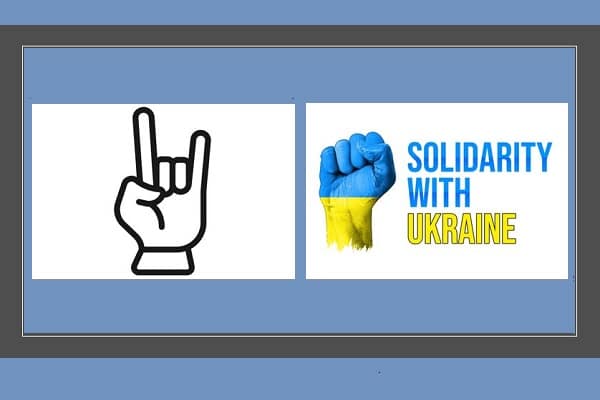 Since Russia's invasion of Ukraine on February 24th, the world has been watching the heavy attacks intensely. With many sending thoughts and prayers to the war-stricken country, rockers around the world have been sharing their food for thought.
Taking to their respected social media platforms, rockers have sent their prayers of support to those currently under attack. Some of rock's biggest names have joined the conversation on the wicked invasion and voiced their feelings on the conflict.
Queen guitarist, Brian May posted an image of the band's 2008 performance in Freedom Square, Kharkiv, and his disbelief of current events. "It seems unbelievable that the peaceful life of Ukraine could be so senselessly shattered in the 21st century. And it feels unbearable that the world could just watch and let it happen. We are all praying for peace for you, dear friends." His full post is an interesting read.
Fleetwood Mac singer, Stevie Nicks shared a post about a fellow artist who is currently trying to escape Ukraine. "Now I know someone, an innocent person, who is having her freedom taken from her. I have been crying ever since." The singer also, controversially compared Russian president Vladimir Putin to German dictator and leader of the Nazi party, Adolf Hitler.
American Idiot rockers, Green Day have shown their support and solidarity for Ukraine by cancelling a scheduled performance in Moscow. "With heavy hearts, in light of current events we feel it is necessary to cancel our upcoming show in Moscow at Spartak Stadium", the band wrote. "We are aware that this moment is not about stadium rock shows, it's much bigger than that. But we also know that rock and roll is forever, and we feel confident there will be a time and a place for us to return in the future."
Whitesnake's David Coverdale has been an avid supporter of Ukraine, using the country's flag in a series of tweets. The American-British rocker brings offerings of inspirational quotes about peace, love, and strength in the face of immeasurable odds.
Meanwhile, Twisted Sister frontman Dee Snider has given his absolute permission for Ukraine to use We're Not Gonna Take It as its battle cry. The rocker said he "absolutely" supports their choice of song, and revealed that his grandfather "was Ukrainian, before it was swallowed up by the USSR after WW2. This can't happen to these people again!"
Check out just a few posts from some of rock's biggest names below:
For over 20 years, @ejaf has supported some of the most vulnerable people in Ukraine with access to HIV services and care, as part of our commitment to communities across Eastern Europe and Central Asia.

(1/3) pic.twitter.com/4RJy7EYgbG

— Elton John (@eltonofficial) February 26, 2022
Kyiv, a beautiful city full of beautiful people, incredible art, music,literature and athletics.

— Flea (@flea333) February 25, 2022
— Axl Rose (@axlrose) February 26, 2022
Good Morning, All…Hoping To Find YOU & YOURS Safe & Well, Wherever You Are …My Thoughts & Prayers Are Truly With The Brave, Courageous, STRONG People Of Ukraine…With All My Heart & Soul I Pray For This War To Stop…NOW!!!…🇺🇦🇺🇦🇺🇦❤️‍🔥❤️‍🔥❤️‍🔥❌❌❌🙏🙏🙏❌❌❌❤️‍🔥❤️‍🔥❤️‍🔥🇺🇦🇺🇦🇺🇦 pic.twitter.com/QC42Fv1KpW

— David Coverdale (@davidcoverdale) February 27, 2022
The majority of humans on this planet are more consumed by the pursuit of love, health, family, food and shelter than any kind of war. War hurts. We are such a remarkable species. Capable of creating beauty. Capable of awe-inspiring advancements. pic.twitter.com/6XXTpkqzG2

— Pearl Jam 🇺🇦 (@PearlJam) February 26, 2022
While we are living our everyday blessed lives, the people of Ukraine are fighting for theirs against overwhelming odds.We are watching in real time as families are decimated and a country is battered. There's a dark cloud over us all who are powerless today to help. I will pray. pic.twitter.com/btJJLEGa8E

— Paul Stanley (@PaulStanleyLive) February 25, 2022