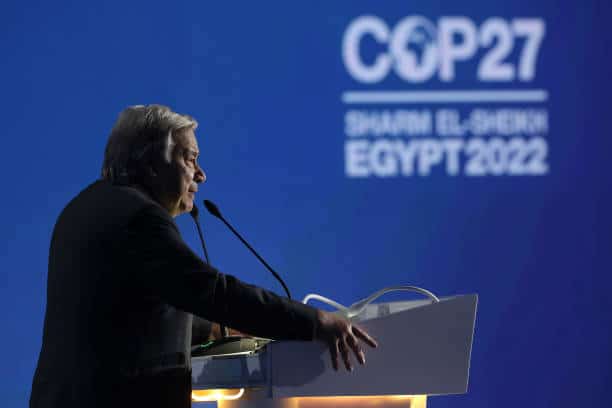 The United Nations General Secretary says time is running out to protect the planet for future generations.
António Guterres has told Cop27 the world is on 'highway to climate hell'.
The Taoiseach, who's at the global summit in Egypt this week, says many countries who contribute the least to climate change are bearing the brunt of its impact.
Wealthier nations are being asked to bring about climate justice and contribute to a fund to help less well-off countries to deal with the impact of the climate crisis.
António Guterres says today's leaders are the planet's caretakers for future generations to come. He told delegates on Monday that the world was on the "highway to climate hell with our foot on the accelerator."
The very earnest Guterres, said the world was fast approaching tipping points that will make climate chaos "irreversible."
He told delegates that the war in Ukraine and other conflicts had caused so much bloodshed and violence and had dramatic impacts across the world but that the world could not accept that our attention is not focused on climate change.
"Climate change is on a different timeline, and a different scale," he said. "It is the defining issue of our age… It is unacceptable, outrageous and self-defeating to put it on the back burner."
At Cop27 itself, he said he was calling for a "historic pact" to be formed between developed and emerging economies, in which all countries make an "extra" effort to reduce emissions this decade in line with the 1.5C goal, in which financial assistance is given to emerging economies to transition to renewables, and in which countries agree to end dependence on fossil fuels.
Vulnerable countries have called for a funding mechanism for nations that have suffered permanent losses and irreparable damage from the climate crisis.
"It is a moral imperative," he said. "It is a fundamental question of international solidarity — and climate justice."