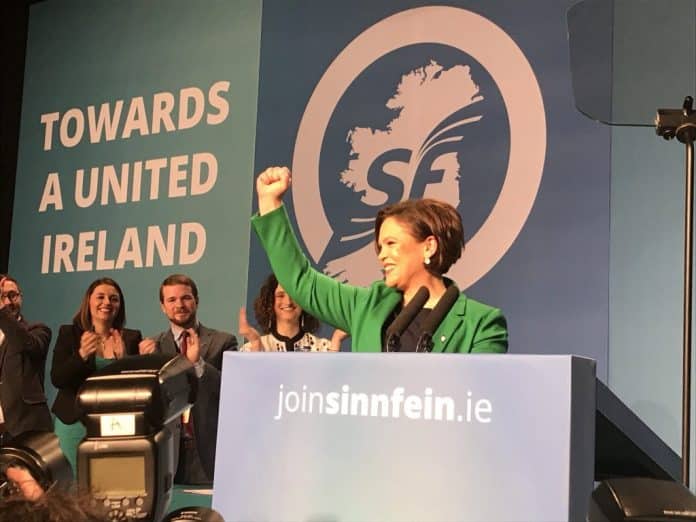 The Sinn Féin leader has accused the Taoiseach of being "reckless" and failing to adequately prepare for a border poll amid the ongoing Brexit crisis.
Almost half of voters in Northern Ireland would support a united Ireland if Britain left the EU under the present withdrawal agreement according to a poll by The Times this week.
Mary Lou McDonald said that a no-deal Brexit would necessitate an immediate referendum on partition.
She said she had told Theresa May this and in the TIMES Ireland edition was quoted as saying.
"If there is a hard Brexit and no deal then the immediacy of a border poll is self-evident," Ms McDonald said. "You couldn't possibly have a no-deal Brexit, resulting in the hardening of the border and suggest people would simply have to live with that.
"I have made that clear to the British prime minister and said it would have to be done very quickly in those circumstances. Beyond that I want us to have one as soon as possible but I also want us to win and I want us to win it well."
She criticised Leo Varadkar and said that the government should be planning for the economic and social implications of reunification.
Another part of the poll suggested that one in four unionists think the DUP would be wrong to reject Mrs May's withdrawal deal.
Almost four in ten unionists also disagreed or strongly disagreed that the DUP's tactics in refusing to back it were correct.
Karen Bradley, the Northern Ireland secretary, will urge both communities today to rally support for the deal in an open letter to voters.
The so-called meaningful vote in the British parliament is scheduled for Tuesday, when MPs will have their say on the withdrawal deal. Mrs May's deal is expected to be rejected.