Paul McCartney's 1991 demo for "Angle In Disguise" — a song Ringo Starr recorded, but ultimately shelved is going up for auction.
The tune was written for Ringo's comeback album — 1992's Time Takes Time collection — the album which marked Ringo's first set since getting sober in 1988.
The cassette features "two versions of the track — a rough demo with Sir Paul on vocals and a fuller 'mixed' version with musicians and backing vocals and Sir Ringo singing."
British DJ Tony Prince is selling the cassette after McCartney enlisted him in finding a suitable artist to cover the songs after Ringo bumped it from the album.
The tape, with other memorabilia, will go under the hammer on May 19th at Omega Auctions' online sale with 25 percent of proceeds donated to the NHS Charities Together Covid-19 Urgent Appeal. The tape is expected to sell for around $25,000.
Auctioneer Paul Fairweather said: "It's fantastic to be able to bring to the market a previously unheard and unreleased track. We think the track certainly had enough about it to be included in the album and I am sure if Paul was to release this himself it would certainly prove a hit with fans."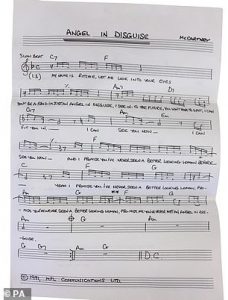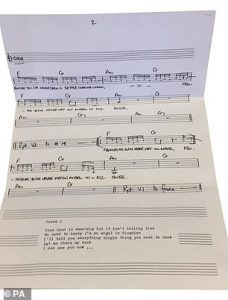 "Angel In Disguise" is the last song Paul McCartney ever wrote for Ringo Starr. In all he composed 10 songs for the Beatles' drummer during the Beatles years, with John Lennon. He wrote "I Wanna Be Your Man," "If You've Got Troubles," "What Goes On" — with Ringo, "With A Little Help For My Friends," and "Good Night."
McCartney went on to write "Six O'Clock" for the 1973 Ringo album, "Pure Gold" for 1976's Ringo's Rotogravure, along with "Private Property" and "Attention for 1981's Stop And Smell The Roses.