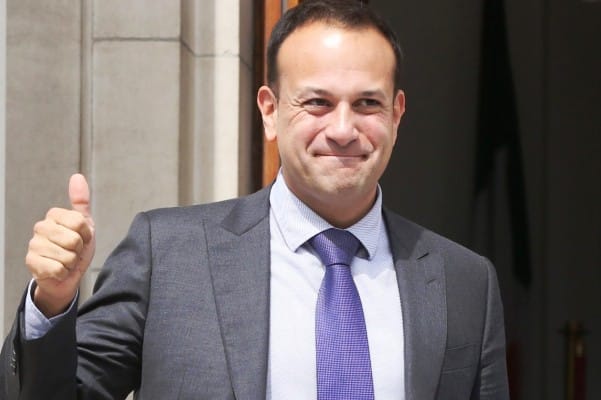 Fine Gael leader, Leo Varadkar has said that he is "more than willing" to work in the Covid-19 vaccine clinics if they need him in the coming weeks. This comes as Ireland battles a third wave of the virus.
Varadkar himself, worked in Beaumont, St James' Hospital, Crumlin Children's Hospital, as well as Tallagh, Navan, Wexford and Blanchardstown over a period of 4 years. He is also the son of an Indian doctor and Irish nurse, while his partner Dr Matt Barrett is a cardiologist.
Varadkar also said he would be willing to help in critical care, but he is "not qualified for that".
The Táiniste added that he is registered with the medical council as a non-practicing doctor.
He also said, "So, I've said to the HSE that I'm available certainly to help with the vaccine clinics if they need me. I'd be more than willing to do it".
He added, "I know I'm part of a group of 150 or so non-practicing retired GPs who are willing to do it".
Varadkar also that the new AstraZeneca Covid-19 vaccine will be approved by January 29. He told the Dáil that this would double the number of jabs being rolled out, from 50,000 to 100,000 per week.
"I'm certainly available" – Varadkar
Varadkar said, "They don't need us yet because there aren't enough vaccines in the country but we might get to that point in the next couple of weeks". He also added, "I'm certainly available".
He continued, "I know it's not the kind of frontline work in ICU or HDU which I'd like to be doing but to be honest, I'm out of date and I'm not qualified for that but I would be qualified in some areas and happy to help out there".
This comes after health officials confirmed yesterday that half of all Covid-19 reported cases in Ireland were returned in the last 2 weeks.
Despite the recent spike in cases, Professor Philip Nolan did say the country has "turned a corner" and the number of new infections are slowly beginning to improve.
He said that people must continue to adhere to the Level 5 restrictions, as these efforts are beginning to slow down the virus. However, he also emphasised caution, saying that the number of hospitalisations are expected to remain high by the end of January.
Professor Nolan also confirmed that 1 in 67 people in Ireland have had a positive Covid-19 test over the last fortnight.