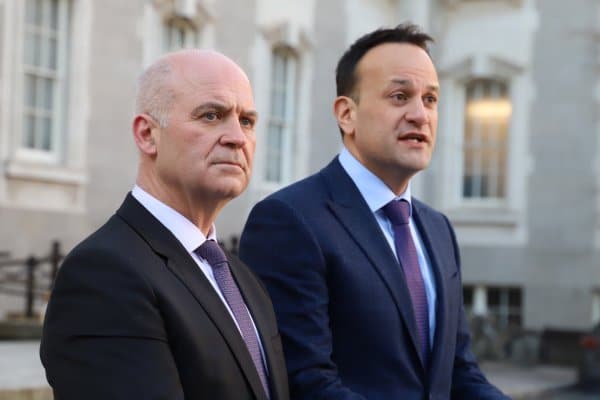 Taoiseach Leo Varadkar is not recommending the cancellation of major events such as the St Patrick's Day celebrations despite the coronavirus outbreak. He made the announcement after chairing a special COVID-19 stakeholder forum at Leinster House this afternoon.
"In terms of events, detailed guidance is being issued today on events and mass gatherings, We are not recommending at this stage that any major events be cancelled but that, of course, will be kept under review."
"What we may have to do is ask people who are retired health care professionals to come back into service if there are significant pressures on our health service in the weeks ahead," while informing the media that the Government is working on a number of measures as it prepares for more cases.
"We are going to do some work on that over the next couple of days and also by Monday, we should have a clear solution on what we are going to do in providing income supports to workers who are asked to self-isolate."
There are currently 16 confirmed cases of the virus on the island of Ireland – 13 are south of the border. Seven new cases yesterday saw the first apparent case of community transmission in Ireland.
The a patient at Cork University Hospital had not travelled to an affected area or had been in contact with any known cases.60 staff in CUH in Cork were asked to self-isolate as a result and outpatient appointments were shelved but dialysis, chemotherapy, radiation treatments and infusions proceed as scheduled.
Meanwhile ministers discussed the ongoing disease outbreak caused by Covid-19, and the effects on health services. Ministers heard from the World Health organisation, the European Centre for Disease Control and the European Medicines Agency about ongoing efforts in containing the virus and the appropriate responses.
Speaking today, Minister Harris said: "Ireland remains in the containment phase. While countries are in different situations, it is vital we work together.
"We are better protected if we work together on this. We need rational, coherent decision- making based on science and public health.
"It is clear this virus is going to have an impact for a prolonged period of time. It is essential we plan ahead, protect our healthcare workers and do our best to provide accurate, evidence based and timely information to our people."
Minister Harris added: "Public communications is an important focus in our response. Europe must act together to stop the spread of misinformation about this virus.
"Those who spread such lies are increasing the stigma attached to this virus. They are endangering lives and they are stopping us from doing our jobs. Our public health doctors should lead our response to this matter."
For updated, factual information and advice on #Covid19, visit our website: https://t.co/mxZuBrYU9k #Coronavirus pic.twitter.com/J8zcElSBoU

— HSE Ireland (@HSELive) March 6, 2020