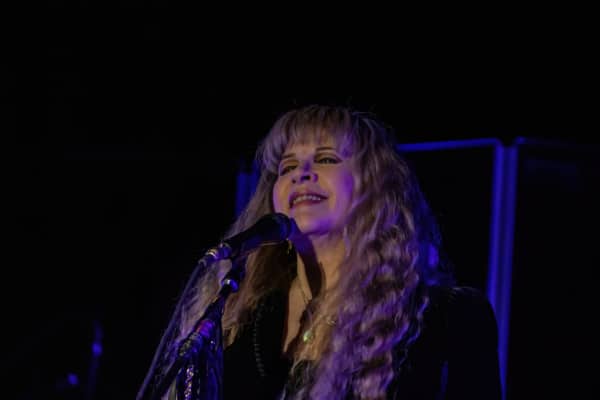 Stevie Nicks joined Eddie Vedder on stage as part of the Pearl Jam frontman's California based festival, Ohana.
Vedder who has been hosting this festival since 2016 at Dana Point, was joined by several headliners on stage, including Nicks. Other headline acts also included Pink and Jack White.
Former Fleetwood Mac singer Stevie Nicks joined Eddie Vedder on stage, and the pair performed the track 'Stop Draggin My Heart Around', a track originally Nicks collaborated with Tom Petty in 1981.
See the Nicks/Vedder collaboration below.
Stevie Nicks and Eddie Vedder
Singing "Stop Draggin My Heart Around" at @TheOhanaFest
📸 gregmick pic.twitter.com/DDjTJ5mfQZ

— FLEETWOOD MAC NEWS (@Nickslive) October 1, 2022
Earlier this Summer, Stevie Nicks ended her two year hiatus from the performing stage, when she arrived at the New Orleans Jazz & Heritage Festival. 
Along with performing several Fleetwood Mac tracks, including 'Landslide', 'Gold Dust Woman' and 'Rhiannon', Nicks also delved into her solo catalogue, including 'Outside The Rain' from her 1981 album Bella Donna.
Speaking tp her audience, Stevie Nicks had joked that she was too busy "watching mini-series and wearing comfy pants and teaching my dog to shake hands", to bother with performing.
Nicks Reflects On Bella Donna 
Speaking of Bella Donna, the album reached its 40th anniversary since it was released, and Nicks reflected on the album in an Instagram post.
The singer revealed that her boyfriend's mother was the inspiration behind the album's title track. According to Nicks, his mother  "was involved with a man in Chile during the coup that happened there in 1973″.
"The man she loved was banished to France," Nicks revealed at the time. "Banished or imprisoned, that was the choice. The love story never really ended – but she never saw him again". 
'Stop Draggin My Heart Around' featured on Bella Donna, a collaboration with Petty that helped to launch Nicks' solo career following her Fleetwood Mac departure.
It was also a collaboration which almost failed to materialise, as Nicks originally turned down the opportunity to work with Petty. More on this from Nova here.
Elsehwere, Nicks' former partner and bandmate Lindsey Buckingham was forced to cancel the remaining tour dates from his UK and European shows due to "ongoing health issues".