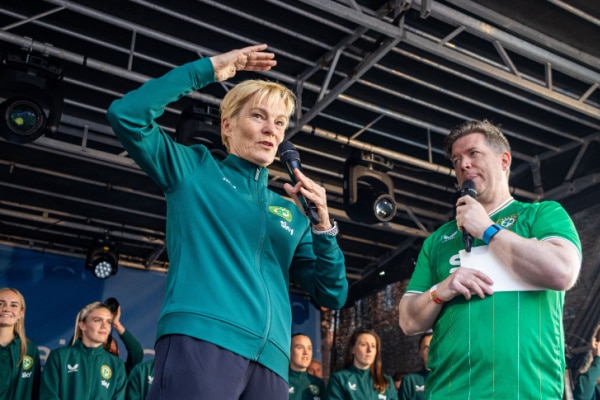 Would you like to listen to the article instead of reading it?
The FAI have decided not to extend the contract of Rep of Ireland Women's team manager Vera Pauw.
The Holland native's contract runs out at the end of this month, and while she was hopeful of being offered a new contract, to lead the team for their upcoming UEFA Nations League matches, and subsequent Euro 2025 qualifiers, the FAI have decided to go in a different direction.
Having been appointed as manager in September 2019, Vera Pauw led the country to their first ever FIFA World Cup, following their play off victory over Scotland at Hampden Park last year, having previously missed out on the play offs for Euro 2022.
Sadly, Ireland's first ever World Cup campaign ended at the first hurdle, following narrow defeats to Australia and Canada, and a draw with Nigeria.
"building upon the work done by Vera"
Confirming the decision not to offer Vera Pauw a contract extension, the FAI's chief executive Jonathan Hill released this statement.
"On behalf of the Football Association of Ireland, we would like to thank Vera for her hard work and commitment over the past four years and wish her well for the future", he said.
"In particular, I wish to acknowledge the role she played in leading Ireland to the FIFA Women's World Cup 2023 where our women's team made history and inspired a nation".
"The future is bright for women and girls' football and our focus now is building upon the work done by Vera and the historic achievements of our women's team, which we see as a platform to support the next phase of the journey for the team, and more broadly the development of women and girls' football in this country".
Vera Pauw has had a number of issues to contend with over the past few years, including allegations made against her from her time as manager of NWSL side Houston Dash.
Pauw had denied claims that she shamed players over their weight, and eating habits in a report which was filed.
Her relationship with Ireland captain Katie McCabe was also called into question, following an on field row between the pair, which saw McCabe demand that Pauw make changes during their final group game against Nigeria.
"If Katie McCabe wants a change, it doesn't mean… she's not the coach", Pauw said in her post match press conference. Katie McCabe later posted a tight-zipped mouth emoji.
The FAI will begin the process of appointing Pauw's replacement, with their next competitive game taking place on September 23 against Northern Ireland at the Aviva Stadium, with Eileen Gleeson placed in temporary charge of the team.