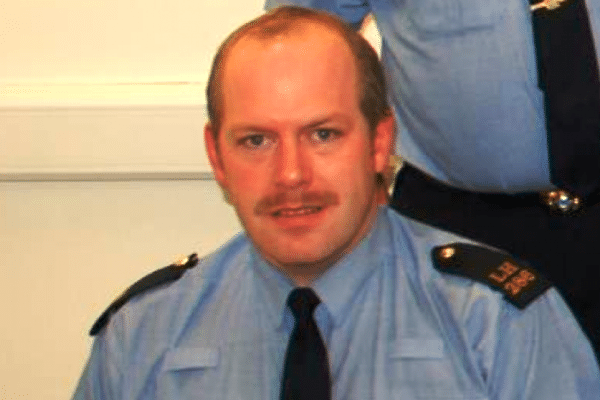 A jury has returned a verdict of 'unlawful killing' in the death of Garda Tony Golden.
The father of three was shot dead by Craven Mackin in October 2015 at a house in Omeath, Co. Louth.
The inquest heard ten shots were fired and five of them hit the late garda. One of them hit him in the back and would have killed him quickly.
The Coroner expressed his sympathy with Garda Golden's family and said no words can express how difficult it must be for them.
The sister of Creavin Macken said he had fallen in with republicans after being released from a psychiatric hospital. She made the revelations at the inquest of Garda Tony Golden who was shot dead by Crevan Mackin in October 2015.
On the 11th of October 2015, Garda Tony Golden went to Creaven Mackin's home in Omeath in Co Louth with Mackin's girlfriend Siobhan Phillips. They were there to collect her belongings after she had been badly beaten up by Mackin two days before hand.
Mackin pulled a gun on Tony Golden – shooting him five times – Siobhan Phillips was also badly injured in the shooting and lost her right eye. Craven Macken then killed himself.
His sister Sinead Hynes told Garda Golden's inquest – Crevan Mackin had been a difficult child and in his adult life was really depressed and had fallen in with republicans after being let out of a psychiatric hospital. He met Siobhan when she was around 16 and became pregnant a few months afterwards.
Ms Hynes said around the time of the shootings a lot of stuff – including rumours of paedophilia – had taking its toll on Crevan Mackin. While nine months before the shootings, she said Mackin had told her he had been imported gun parts on the Dark web.
Solicitor James McGuill spoke outside the inquest on behalf of Tony Golden's widow and family. "My client is delighted that the inquest is over," he said.
"She welcomes the verdict of the jury and she would like to repeat her request that the privacy of herself and her children is respected at this time, and that reflects the broader family as well.