Harvey Weinstein's been found guilty of sexual assault and third degree rape at his trial in New York.
The former Hollywood producer attacked a production assistant at his apartment in 2006. He then went on to target another woman in 2013.
However he was acquitted on the most serious charges of predatory sexual assault and first degree rape which could have sent him to prison for life.
He'll be sentenced in just over a fortnight. The top conviction count could yield up to 25 years in prison.
Before any appeal is lodged the disgraced movie mogul Weinstein could face further legal jeopardy.
Los Angeles authorities have charged him with raping and sexually assaulting two women over a two-day period in February 2013.
It remains to be seen whether those prosecutions will proceed or whether they will be allowed to wither now that he is certain to face prison time in New York.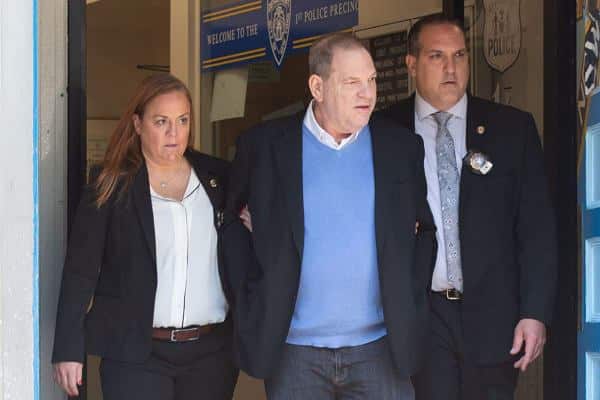 After the verdict announcement, Weinstein was handcuffed and put in jail, and his bail was revoked.
The case is a landmark for the #MeToo movement, which brought a raft of sexual assault and harassment allegations against powerful men, provoking conversations about gender and misconduct in all walks of life.
#MeToo began after the New York Times and New Yorker published allegations against Weinstein in late 2017.
New York district attorney Cyrus Vance Jr, who lead the prosecution, held a press gathering outside the courtroom.
He described Weinstein as "a vicious serial sexual predator who used his power to threaten, rape, assault, trick, humiliate and silence his victims".
Vance gave profound praise to the women who testified and to the great the sacrifices they made.
"Weinstein with his manipulation, his resources, his attorneys, his publicists and his spies did everything he could to silence the survivors," But they wouldn't be silenced, spoke from their hearts, and were heard."
Today is a victory for the #SilenceBreakers who refused to be silent about Weinstein, igniting a global reckoning.

It's a victory for survivors everywhere – and for all those who believe in justice.

Read our full statement from @TinaTchen: https://t.co/EYePvrWJlI

— TIME'S UP (@TIMESUPNOW) February 24, 2020