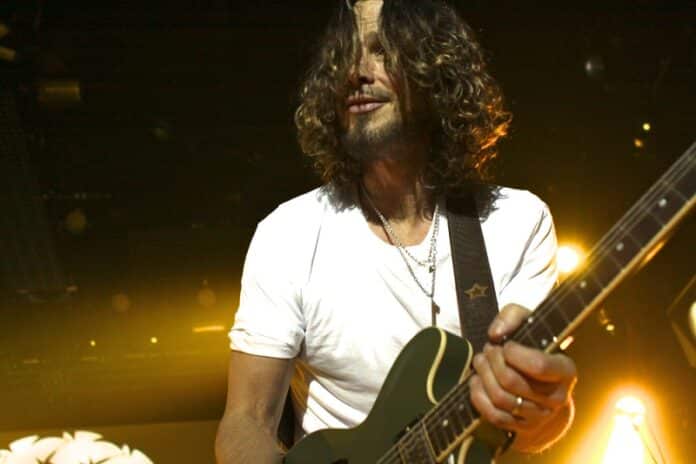 Chris Cornell's widow Vicky has stated that all of his music, including unheard Soundgarden material will see the "light of day".
The news come after the surprise release of a cover album from the former Audioslave singer called 'No One Sings Like You Anymore'.
In a new interview with USA Today Entertainment, Vicky said "All of Chris' music, including Soundgarden, will see the light of day because there's nothing in the world that lifts me most than sharing Chris' gifts, having people speak his name, and having his music out there."
She continued "He's alive that way and his legacy lives on. So it's the most important thing to me, seeing how much people love him, miss him, respect him, and how much we want more of his music out there. So everything will be released."
Despite her claims, Vicky Cornell remains in a lawsuit with Soundgarden. The suit is about the rights to several unreleased songs and thousands of dollars in royalties.
Soundgarden members countersued Vicky stating that the money raised from a Chris Cornell tribute concert was not used for its intended purposes and that Vicky spent the money on herself and her family. The band later dropped the suit.
The new album consists of covers Chris Cornell made when he was alive. The Temple of the Dog singer covered tracks including hits from John Lennon, Prince and many more. You can watch the video for his cover of 'Patience' by Guns N' Roses below.
The album is available to download and can be pre-ordered here, ahead of its March 19 release.
No One Sings Like You Anymore Tack List
1. 'Get It While You Can' — Howard Tate/Janis Joplin
2. 'Jump Into The Fire' — Harry Nilsson
3. 'Sad Sad City' — Ghostland Observatory
4. 'Patience' — Guns N' Roses
5. 'Nothing Compares 2 U' — Prince
6. 'Watching The Wheels' — John Lennon
7. 'You Don't Know Nothing About Love' — Carl Hall
8. 'Showdown' — Electric Light Orchestra
9. 'To Be Treated Rite' — Terry Reid
10. 'Stay With Me Baby' — Lorraine Ellison