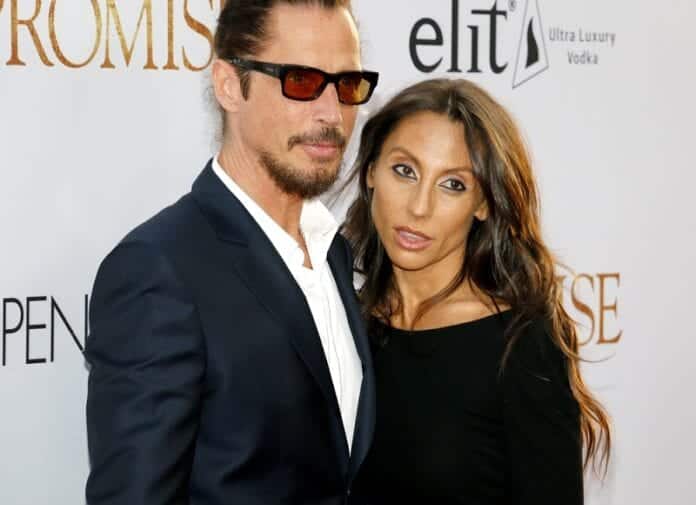 Vicky Cornell has faced another setback in her ongoing legal dispute with Soundgarden as a judge has ruled that two of her six claims against the band be thrown out of court.
Since Chris Cornell's passing in 2017, Vicky has served as the executive of his estate. Chris left his property, including his intellectual and personal property rights, to her for the benefit of their two young children.
In 2019, Vicky Cornell sued the surviving members of Soundgarden, Kim Thayil, Ben Shepherd, and Matt Cameron, claiming they were withholding "hundreds of thousands of dollars."
U.S. District Judge Michelle Peterson has ruled that there is no evidence that members of Soundgarden are withholding "hundreds of thousands of dollars" of Chris Cornell's royalties from her or that the band's manager, Rit Venerus breached his duty to look after her best interests.
It was also determined that there was no evidence that the band used the funds to pay for legal fees, as Vicky Cornell claimed.
Judge Peterson's report also decided that Venerus was a middle-man between Vicky and Soundgarden and not her advisor.
The report which was filed by Judge Peterson will now be sent to the case's presiding judge, Robert S. Lasnik who will make the final decision.
According to Soundgarden, the disputed funds are owned by the band's partnership, and that under Washington law that partnership continues to legally own the funds until there is a distribution by a partner vote.
Vicky Cornell's attorney, Marty Singer said in a statement that it is Vicky's intention to "vehemently object" to Judge Peterson's recommendation.
"The magistrate's recommendation was based solely on her subjective and un-adopted opinion that additional facts must be added to our client's complaint, and we intend to amend our client's complaint to include those facts.
"Most importantly, the magistrate's recommendation has zero impact on the significant claims against Soundgarden and its band members, who have sought to trample on Chris Cornell's rights by unlawfully asserting ownership over his vocal recordings and by depriving his wife and children of millions of dollars that the band members want to keep for themselves."
For more information on the long legal battle between Vicky Cornell and Soundgarden, check out Billboard's timeline here.
Last year, Vicky Cornell stated that all of Chris' unheard music would see "the light of day" and you check out Radio Nova's report here.