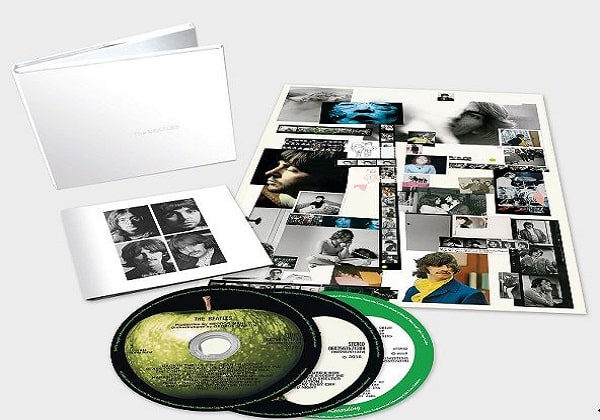 The highly anticipated Beatles' White Album reissue is set to arrive on Nov. 9 th replete with new mixes and never heard before demos and session recordings. You can watch a trailer for the reissue and there's a full tracklist below.
The reissue comes almost 50 years when the Beatles' self-titled LP first appeared and went on to become known by its unofficial name. A statement from Apple records said,
"In November 1968, millions of double LPs were shipped to record stores worldwide ahead of that tumultuous year's most anticipated music event: the Nov. 22 release of The Beatles (soon to be better known as the White Album)."

"With their ninth studio album, the Beatles took the world on a whole new trip, side one blasting off with the exhilarating rush of a screaming jet escorting Paul McCartney's punchy, exuberant vocals on 'Back In The U.S.S.R.' 'Dear Prudence' came next, John Lennon warmly beckoning his friend and all of us to 'look around.' George Harrison imparted timeless wisdom in 'While My Guitar Gently Weeps,' singing, 'With every mistake we must surely be learning.' Ringo Starr's 'Don't Pass Me By' marked his first solo songwriting credit on a Beatles album."
The record's 30 songs have been remixed by producer Giles Martin and mix engineer Sam Okell in stereo and 5.1 surround. Extras also come with 27 early acoustic demos and 50 session takes, most of which are previously unreleased.
In McCartney's handwritten introduction he recalls the band's direction at the time,
"We had left Sgt. Pepper's band to play in his sunny Elysian Fields and were now striding out in new directions without a map." "In remixing the White Album, we've tried to bring you as close as possible to the Beatles in the studio," Giles Martin wrote. "We've peeled back the layers of the 'Glass Onion' with the hope of immersing old and new listeners into one of the most diverse and inspiring albums ever made."
As well as the standard edition, a deluxe edition includes three CDs while another features four LPs. A limited-edition super deluxe version contains six CDs and a Blu-ray carrying multiple mixes, all packed in a hardback book.
Here's the tracklist,
'The Beatles' Super Deluxe Edition Track Listing
CD 1: 2018 Stereo Mix
"Back in the U.S.S.R."
"Dear Prudence"
"Glass Onion"
"Ob-La-Di, Ob-La-Da"
"Wild Honey Pie"
"The Continuing Story of Bungalow Bill"
"While My Guitar Gently Weeps"
"Happiness is a Warm Gun"
"Martha My Dear"
"I'm So Tired"
"Blackbird"
"Piggies"
"Rocky Raccoon"
"Don't Pass Me By"
"Why Don't We Do It In the Road?"
"I Will"
"Julia"
CD 2: 2018 Stereo Mix
"Birthday"
"Yer Blues"
"Mother Nature's Son"
"Everybody's Got Something to Hide"
"Except Me and My Monkey"
"Sexy Sadie"
"Helter Skelter"
"Long, Long, Long"
"Revolution I"
"Honey Pie"
"Savoy Truffle"
"Cry Baby Cry"
"Revolution 9"
"Good Night"
CD 3: Esher Demos
"Back in the U.S.S.R."
"Dear Prudence"
"Glass Onion"
"Ob-La-Di, Ob-La-Da"
"The Continuing Story of Bungalow Bill"
"While My Guitar Gently Weeps"
"Happiness is a Warm Gun"
"I'm So Tired"
"Blackbird"
"Piggies"
"Rocky Raccoon"
"Julia"
"Yer Blues"
"Mother Nature's Son"
"Everybody's Got Something to Hide"
"Except Me and My Monkey"
"Sexy Sadie"
"Revolution"
"Honey Pie"
"Cry Baby Cry"
"Sour Milk Sea"
"Junk"
"Child of Nature"
"Circles"
"Mean Mr. Mustard"
"Polythene Pam"
"Not Guilty"
"What's the New Mary Jane"
CD 4: Sessions
"Revolution I" (Take 18)
"A Beginning" (Take 4) / "Don't Pass Me By" (Take 7)
"Blackbird" (Take 28)
"Everybody's Got Something to Hide"
"Except Me and My Monkey" (Unnumbered rehearsal)
"Good Night" (Unnumbered rehearsal)
"Good Night" (Take 10 with a guitar part from Take 5)
"Good Night" (Take 22)
"Ob-La-Di, Ob-La-Da" (Take 3)
"Revolution" (Unnumbered rehearsal)
"Revolution" (Take 14 – Instrumental backing track)
"Cry Baby Cry" (Unnumbered rehearsal)
"Helter Skelter" (First version – Take 2)
CD 5: Sessions
"Sexy Sadie" (Take 3)
"While My Guitar Gently Weeps" (Acoustic version – Take 2)
"Hey Jude" (Take 1)
"St. Louis Blues" (Studio jam)
"Not Guilty" (Take 102)
"Mother Nature's Son" (Take 15)
"Yer Blues" (Take 5 with guide vocal)
"What's the New Mary Jane" (Take 1)
"Rocky Raccoon" (Take 8)
"Back in the U.S.S.R." (Take 5 – Instrumental backing track)
"Dear Prudence" (Vocal, guitar & drums)
"Let It Be" (Unnumbered rehearsal)
"While My Guitar Gently Weeps" (Third version – Take 27)
"(You're so Square) Baby, I Don't Care" (Studio jam)
"Helter Skelter" (Second version – Take 17)
"Glass Onion" (Take 10)
CD 6: Sessions
"I Will" (Take 13)
"Blue Moon" (Studio jam)
"I Will" (Take 29)
"Step Inside Love" (Studio jam)
"Los Paranoias" (Studio jam)
"Can You Take Me Back? (Take 1)
"Birthday" (Take 2 – Instrumental backing track)
"Piggies" (Take 12 – Instrumental backing track)
"Happiness is a Warm Gun" (Take 19)
"Honey Pie" (Instrumental backing track)
"Savoy Truffle" (Instrumental backing track)
"Martha My Dear" (Without brass and strings)
"Long, Long, Long" (Take 44)
"I'm So Tired" (Take 7)
"I'm So Tired" (Take 14)
"The Continuing Story of Bungalow Bill" (Take 2)
"Why don't we do it in the road?" (Take 5)
"Julia" (Two rehearsals)
"The Inner Light" (Take 6 – Instrumental backing track)
"Lady Madonna" (Take 2 – Piano and drums)
"Lady Madonna" (Backing vocals from take 3)
"Across the Universe" (Take 6)
Blu-ray:
PCM Stereo (2018 Stereo Mix)
DTS-HD Master Audio 5.1 (2018)
Dolby True HD 5.1 (2018)
Mono (2018 Direct Transfer)
Don't forget you can keep up-to-date on all things Nova over on our Instagram page – follow us for all the craziness of radio life coupled with news, sports and LOTS of cool competitions! Click here…