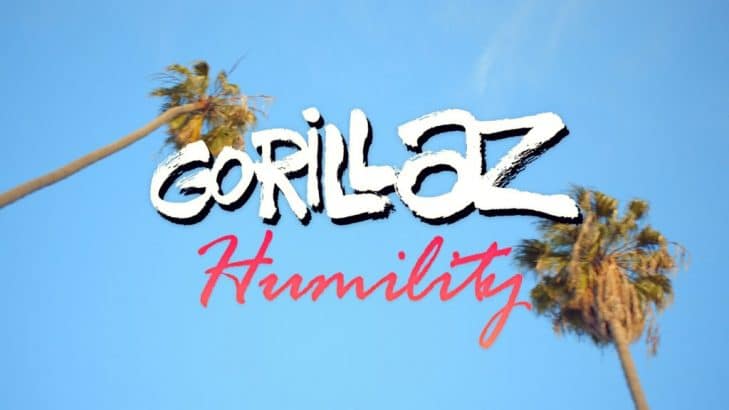 Gorillaz have shared two tracks from their new album 'The Now Now' 'Humility' and 'Lake Zurich'. The album will be released 29th June on Parlophone. Their new video for 'Humility' and the track 'Lake Zurich' is available below…
The band returned last year with 'Humanz', their first album in six years. The group are moving fast following up that record with more new tracks. 'Humility' was debuted on 31st May, and features jazz and soul legend George Benson. Watch the video for it below.
Gorillaz have also shared a second track in 'Lake Zurich', as well as confirming the tracklist for 'The Now Now' available below.
Gorillaz will hit the road this summer with The Now Now Tour playing extensive festival dates across Europe, playing Dublin's Malahide castle on June 9th.

Speaking to the BBC's Zane Lowe, Albarn said 'The Now Now' came about so swiftly after 'Humanz' so he had 'something nice to play everyone" over the summer. 'I sing on it, it's pretty much just me singing. It's very in the world of 2D, but he's come out and he's singing very expressively. I feel good about it. I feel really, really good about it.'
And Gorillaz' own acclaimed Demon Dayz Festival – the "joyful apocalypse… and carnivalesque festival of great performances" (The Guardian)" curated by Damon Albarn and Jamie Hewlett – will make its exclusive appearance for this year at the Pico Rivera Arena in Los Angeles on 20th October, with additional dates for North America also confirmed today. (See complete tour itinerary below).
The tracklist is as follows:
'Humility'
'Tranz'
'Hollywood' (feat. Snoop Dogg and Jamie Principle)
'Kansas'
'Sorcererz'
'Idaho'
'Lake Zurich'
'Magic City'
'Fire Flies'
'One Percent'
'Souk Eye'