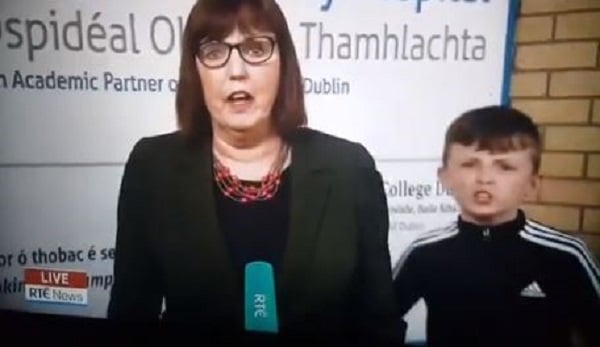 A live broadcast from RTE was interrupted on Tuesday night when a child jumped into the frame of a camera to deliver a lightning fast curse before disappearing again.
Ingrid Miley was talking to camera at Tallaght University Hospital when the child materialized behind her left shoulder and shouted the words "dumb f******".
The reporter was delivering an important item about the health strike involving 10,000 support staff nationwide who are at the picket lines.
Ingrid professionally continued on with the broadcast despite being slightly taken aback by the young boy.
Did this just happen 🙈 #Ingrid #RTENews pic.twitter.com/qSuQQD9Pyj

— Mick O'Keeffe (@okmick) June 25, 2019