The Beatles are set to drop a new vinyl box set, "The Singles Collection", on November 22nd.
That spans their 45 releases from 1962 to 1970 in which the fab four released 22 UK singles.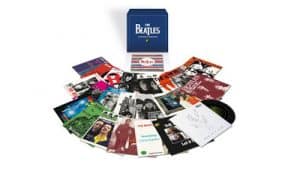 Of the 44 songs of the A and B-side tracks, 29 were not released on the group's British albums at that time. Check out the video trailer below:
Antimusic reports that these singles, are newly mixed for vinyl from their original mono and stereo master tapes by Sean Magee at Abbey Road Studios for a new limited edition package.
There's also an exclusive new double A-side single for the mid-1990s-issued tracks "Free As A Bird" and "Real Love."
"The Beatles: The Singles Collection" presents 46 tracks on 23 180-gram seven-inch vinyl singles in faithfully reproduced international picture sleeves.
The discs are accompanied by a 40-page booklet with photos, ephemera, and detailed essays by Beatles historian Kevin Howlett.