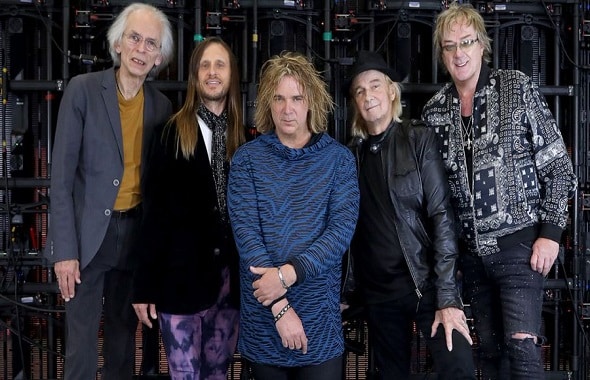 A lyric video from Yes of a previously unreleased 2010 song "To the Moment" has been shared.
According to UCR, it features along with other unheard songs, that include "Words on a Page," "From the Turn of a Card" and "The Gift of Love," all on a new three-disc box set 'From a Page.'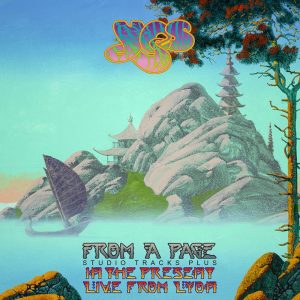 It also contains an extended version of the 2010 live album, In the Present which was recorded the previous year in Lyon.
The studio tracks were recorded in 2010 and at that stage the Yes line-up was Steve Howe, Chris Squire, Alan White, Oliver Wakeman (son of Rick) and singer Benoit David.
To The Moment from YES – FROM A PAGE box set
Lyric video edited by Oliver Wakeman.https://t.co/Qk3bndtxIN pic.twitter.com/jp9nVr8ZyX

— YESofficial (@yesofficial) October 31, 2019
Howe and White are the only remaining band members joined by Geoff Downes, Billy Sherwood and Jon Davison.
The latest news on the release is positive and as quoted by Howe himself, "Good music never goes away or lays down to the commercial pressures that exist."
All four tracks "Oliver's compositions 'To the Moment,' 'Words on a Page' and "'From the Turn of a Card' are examples of profound musical expertise while 'The Gift of Love' quintessentially is Yes, and the collaboration of all the musicians gives the album a familiar edge with its own stand-alone uniqueness.
On a personal note, Wakeman, who oversaw the box set and produced this latest lyric video said, "Following Chris Squire's passing, I felt that the new music we'd created, but not released, should be heard and not sit unfinished on a shelf,"
Wakeman added, "And with Steve, Alan and Benoit's enthusiasm for the project, I am proud to know that this music will get to see the light of day and, hopefully, be enjoyed by Yes fans as a piece of previously hidden Yes history."
Yes 2020 UK and European tour
Apr 24: Lisbon Campo Pequeno, Portugal
Apr 25: Madrid Box Vistalegre, Spain
Apr 26: Barcelona Razzmatazz 1, Spain
Apr 28: Milan Teatro Dal Verme, Italy
Apr 29: Rome Santa Cecilia-Parco Della Musica, Italy
Apr 30: Padova Teatro Geox, Italy
May 02: Zurich Komplex, Switzerland
May 04: Vienna Arena, Austria
May 05: Prague Forum Karlin, Czech Republic
May 07: Stewintorvariete Halle, Germany
May 08: Berlin Theatre am Potsdamer Platz, Germany
May 09: Wroclaw Narodowe Forum Muzyki, Poland
May 11: Tallinn Alexela Concert Hall, Estonia
May 12: Helsinki Circus, Finland
May 14: Stockholm Circus, Sweden
May 15: Oslo Sentrum Scene, Norway
May 16: Helsingor Kulturvaerftet, Denmark
May 18: Aarhus Train, Denmark
May 19: Monchengladbach Red Box, Germany
May 20: Esch-sur-Alzette Rockhal, Luxembourg
May 22: Paris Olympia, France
May 23: Utrecht Tivolivredenburg, Netherlands
May 24: Leuven Het Depot, Belgium
May 26: Liverpool Philharmonic Hall, UK
May 27: Nottingham Royal Concert Hall, UK
May 29: York Barbican, UK
May 30: Gateshead The Sage, UK
May 31: Glasgow Royal Concert Hall, UK
Jun 02: Birmingham Symphony Hall, UK
Jun 03: Manchester Bridgewater Hall, UK
Jun 05: London Royal Albert Hall, UK
Jun 07: Dublin Vicar Street, Ireland