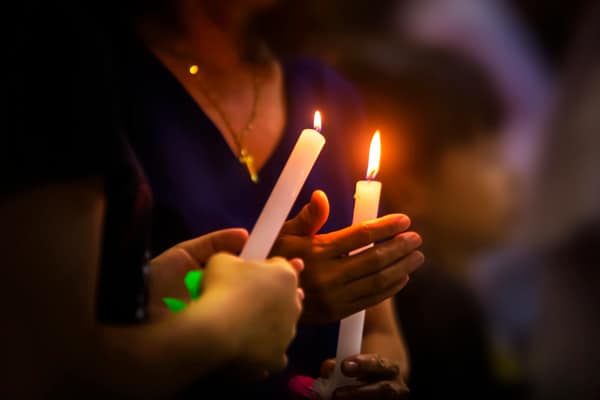 A number of vigils will be held across the country again today, in honour of two men murdered in Sligo.
One will get underway at The Square in Blessington in County Wicklow at 6 o'clock this evening.
Another vigil will get underway at Eyre Square in Galway at 7pm, while Carlow Pride Festival will hold one in Carlow town centre.
Aidan Moffitt, 42, and Michael Snee, 58, were found dead in their own homes in the town on the west coast earlier in the week.
A man was remanded in custody at Sligo District Court after being charged with their murders.
Scenes at the vigil in Sligo town yesterday were replicated all over the island, with more than 30 events organized in towns and cities on both sides of the border for yesterday.
Dublin LGBTQ+ Prides organised a vigil for the two men, which took place outside Dáil Éireann yesterday evening
"We as a community are in pain, we are angry, we are afraid and many of us are feeling powerless right now. We have been here before, and we know exactly what to do. We are going to come together and share our grief, we are going to remember and honour Aidan Moffitt and Michael Snee," the organisers said.
Meanwhile, Young people are being reassured that the tragic attacks in Sligo this week are 'not representative of the Ireland that voted overwhelmingly for marriage equality'.
In an open letter to the Irish Independent, Justin McAleese says what happened in Sligo is 'disturbing, devastating and terrifying – but it is the exception'.
The son of former President of Ireland Mary McAleese says 'being gay isn't wrong', and Sligo shouldn't deter anyone from coming out, and being the very best person they can be.