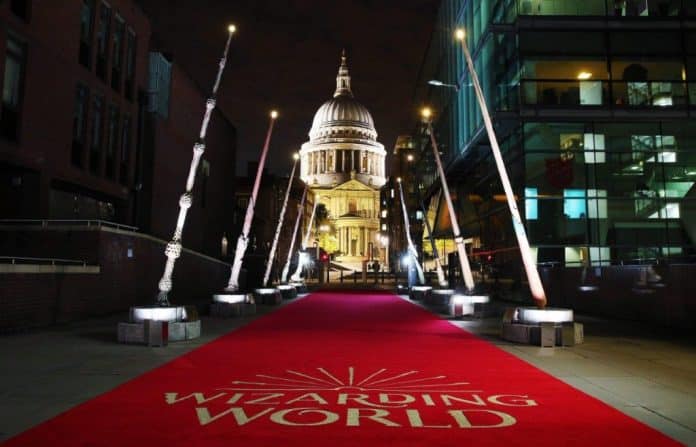 Dublin is among the finalists for future tour locations for the magnificent 'Wizarding World Wands' installation which illuminated the City of London last autumn.
Birmingham, Dublin, Kingston upon Hull, Leeds, Manchester, Newcastle Upon Tyne, Reading, and Stoke on Trent are all among the final poll for fans to determine which four locations will host the installation next.
The final 'Wands Ready' voting process is open now and will continue through the summer, closing at 5pm on 26th August. The final four locations will host the installation in the lead up to the release of the third Fantastic Beasts film, beginning with the city with the most overall votes. The four tour locations will be announced on 31st August 2019.
Standing fifteen feet tall and set within concrete bases, the nine wands – bringing to life those belonging to some of the most beloved characters in the Harry Potter and Fantastic Beasts films – illuminate each night, performing a light show to music from the Fantastic Beasts and Harry Potter films.
The new installation was created to help raise awareness for J.K. Rowling's international children's charity Lumos whose mission is to end the institutionalisation of children around the world.
Named after the light-giving spell in Harry Potter, Lumos was founded in 2005 and speaks up on behalf of the eight million children trapped in orphanages and other institutions worldwide to transform their care, so every child can thrive in families and communities. 80% of these hidden children are not orphans and could stay with their families, with the right support.
Head prop maker Pierre Bohanna, who created the wands used in the 'Fantastic Beasts'and 'Harry Potter' films in close collaboration with J.K. Rowling, was at the London installation launch and spoke about how it felt to see his props transformed into fifteen-foot models to be enjoyed by the public.
"It's amazing to see something you've worked on for two decades celebrated in such an awe-inspiring way," Bohanna stated. "Each of these wands were born in the extraordinary imagination of J.K. Rowling, and bringing them to life has been a labour of love for Stuart Craig, myself, and all the filmmakers, artists and actors who've had a hand in their creation for the films. To now see them realized in truly larger-than-life fashion for fans to enjoy is truly gratifying, and I thank Wild Creations for their wonderful work."
Fantastic Beasts: The Crimes of Grindelwald is out now on 4K Ultra HD, 3D Blu-ray, Blu-ray, and digital download. The 4K Ultra HD, Blu-ray and 3D Blu-ray include an extended cut of the film with more than seven minutes of deleted scenes added, available as a bonus disc Also featured is an audio introduction by director David Yates and over an hour of fantastic special features. A two-film box set featuring both Fantastic Beasts and Where to Find Them and Fantastic Beasts: The Crimes of Grindelwald is also available on 4K, Blu-ray and DVD.