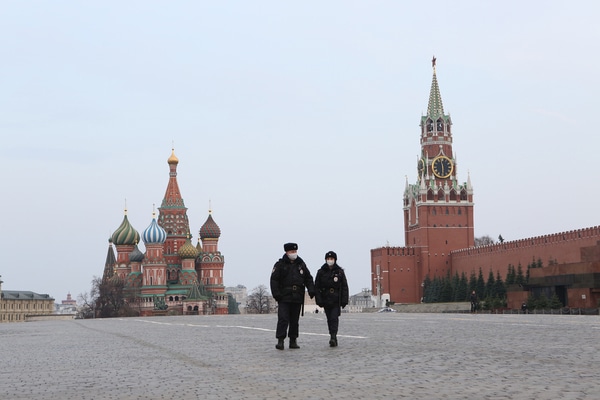 Three of the world's biggest music labels have suspended their operations in Russia.
Universal Music Group was the first of the three to announce their suspension of Russian operations.
"Effective immediately, we are suspending all operations in Russia and closing our offices there," UMG said in a statement. "We urge an end to the violence in Ukraine as soon as possible. We are adhering to international sanctions and, along with our employees and artists, have been working with groups from a range of countries to support humanitarian relief efforts to bring urgent aid to refugees in the region."
Universal's lead was followed by Warner Music Group and Sony Music.
Warner's majority share owner is Len Blavatnik, a British-American businessman who was born in Ukraine.
"Warner Music Group is suspending operations in Russia, including investments in and development of projects, promotional and marketing activities, and manufacturing of all physical products," WMG said. "We will continue to fulfil our agreed upon obligations to our people, artists, and songwriters as best we can as the situation unfolds. We remain committed to supporting the humanitarian relief efforts in the region."
"Sony Music Group calls for peace in Ukraine and an end to the violence," Sony said in their statement. "We have suspended operations in Russia and will continue our support of global humanitarian relief efforts to aid victims in need."
Both Universal and Sony have confirmed that they will continue to pay their Russian employees throughout the suspension.
The announcement from the three labels continues a mass entertainment exodus from Russia as the West reacts in horror to the ongoing invasion of Ukraine.
Live Nation confirmed that it would cease promoting shows in Russia, though at this point almost every act has cancelled any scheduled Russian appearances.
"We will not promote shows in Russia, and we will not do business with Russia," Live Nation said.
After closing its Moscow office, music streaming service Spotify announced it was suspending its premium accounts in Russia, thought to account for over 1.5 million subscriptions.
Royalty collection group PRS for Music announced that it has "formally suspended, with immediate effect, our rights representation relationship with RAO, the Russian collecting society for musical works, pending confirmation of its separation from the Russian Government and those individuals and companies on the sanctions lists."
Hollywood studios have similarly suspended their activities in Russia, with all film releases delayed indefinitely. The Russian box office is estimated to account for approximately 3% of global ticket sales.
In western nations, film festivals have cancelled screenings of Russian films while concert halls have cancelled performances of music by Russian composers. There have even been calls in some colleges to suspend Russian literature courses.