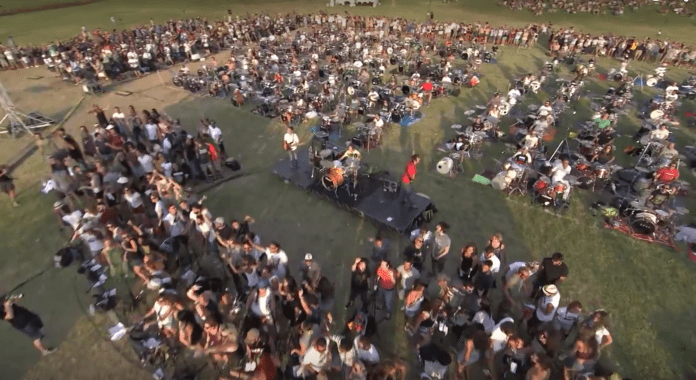 In Sao Paulo, Brazil over a 150 drummers got together to play a pair of rock classics. It is similar enough to a group of Italians who recently played Foo Fighters' 'Learn To Fly' to get the band to play in Cesena.
This latest gathering of drummers called Bateras 100% wasn't a plea for AC/DC or Queen to play there, it was more of an effort to get people to enjoy playing together, as organiser Dino Verdade said.
The two classic rock anthems that the group of drummers played were Queen's 'We Will Rock You' and the AC/DC classic 'You Shook Me All Night Long'. Both versions of the songs sound incredibly powerful and makes me wonder why bands don't usually have 156 drummers.
It seems like it would be fairly hard to co-ordinate them all, so they're all clearly top quality drummers being in sync with each other. You can check out both videos of 156 drummers playing Queen and AC/DC classics down below.