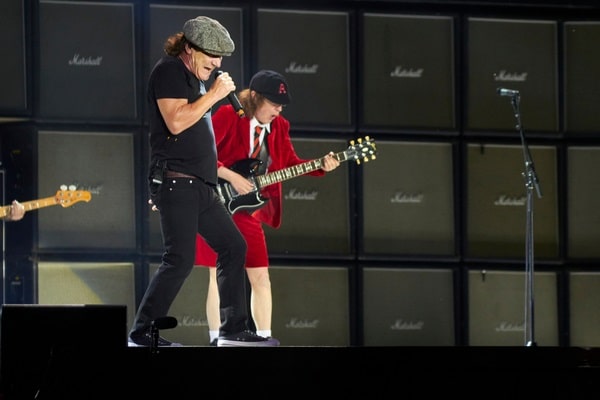 Not being renowned for their chit-chat, AC/DC usually tend to do their talking on stage.
For example, when promoting their 2020 album Power Up, the subsequent interviews were more a necessary obligation following Malcolm Young's death, Brian Johnson's exit, Axl Rose's arrival. Not to mention their unexpected return to the studio.
Like I stated, AC/DC tend to do their talking on the stage, and 1996 was no different.
In a video where they were promoting their Ballbreaker album, AC/DC could be seen performing at VH1's Studio B in London. This studio is also located around the corner from Roundhouse Studios.
Check this performance out below.
Other AC/DC Promotional Gigs
AC/DC have done similar shows in the past.
Their iconic promotional album Live From Atlantic Studios was recorded in front of a New York audience in 1977.
UK fans even managed to catch a glimpse of AC/DC perform via their BBC series Rock Goes To College the following year.
In the interview that precedes the band's set, Angus Young can be heard asking "When was the last one?".
Young then answers the question himself, "There's been video stuff of us done live, but this is the first time we've done this since the 70s".
"Aye", Brian adds.
"We just thought it was a good idea", Malcolm can be also be heard saying, "because you asked us, you know?".
Two days beforehand, AC/DC also performed at Barcelona's Palau Sant Jordi. They headed to the Iberian Pennisular to perform at Lisbon's Estádio do Restelo.
"phenominal"
Speaking of live performances, Slash heaped the praise on Guns N'Roses bandmate Axl Rose for his performance when he fronted AC/DC when Brian Johnson was absent.
"The fact that he got asked to do that was very cool", he said. "And he worked his ass off doing it, too. He really adhered to the whole AC/DC regimen and pulled it off. In the moment, when it first came up, it was a little jarring, I have to say".
"I was super-proud that he was doing it, but how that was gonna happen and go right into the Guns thing, I really didn't know. But anyway, it worked out," he added. "So, it wasn't like a big deal. In all these years that we've been apart, he's become super-fucking professional. And he's never missed a beat during this whole time. So, it's been great. There has been a sort of synergy that's been happening this last six years that we never had in our first incarnation".