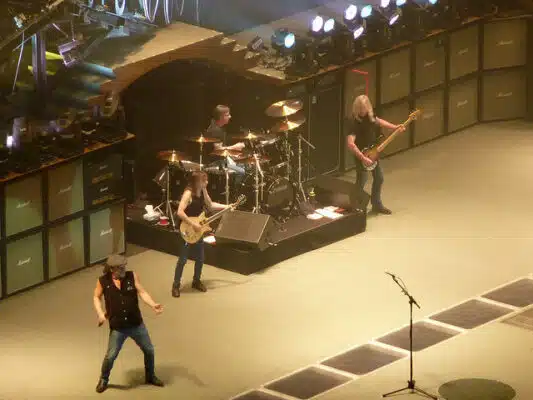 AC/DC rocked the Grammy Awards last night performing a new track and one of their most beloved classic tunes.
The 57th Annual Grammy Awards took place last night at the Staples Center in Los Angeles, California.
As predicted Chris Slade filled in on drums for the Aussie rockers, as Phil Rudd deals with his legal issues in New Zealand.
Slade was formerly a member of AC/DC in the nineties and appeared on 1990 album The Razor's Edge.
AC/DC kicked off their performance with the song 'Rock Or Bust' from their 2014 album of the same name and then kicked into the monster  hit 'Highway To Hell' from their 1979 record Highway To Hell.
Watch AC/DC at the Grammys below.
AC/DC recently released the album Rock Or Bust, their first LP since Black Ice released six years ago. They released a very cool promo video for the record, that was shot in Dublin.
The band's 15th studio album was recorded in Vancouver, Canada. Singer Brian Johnson said, "It was brilliant over there. I'm very excited and we've got some great songs."
This will be the first AC/DC record without Malcolm Young. The band and his family both confirmed that the guitarist will not be returning to the group, due to health issues.
The 'Rock Or Bust' tour arrives in Europe at the end of June, they're playing Glasgow's Hampden Park before the band hits our shores at the beginning of July for one night only.
The group are returning to Ireland for the first time since 2009, when they played Punchestown as part of their 'Black Ice Tour'.
Controversy has surrounded the band in recent weeks after AC/DC's drummer Phil Rudd, was arrested for trying to arrange a murder. The charge of attempting to procure the murder of two people has since been withdrawn. However, the two other charges of threats to kill and drug possession still stand.
The Aussie rockers will play the Aviva stadium on July 1st 2015.