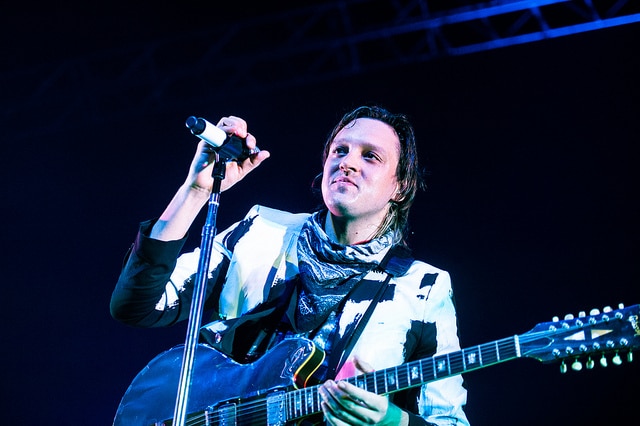 A new video has been released showing Arcade Fire performing in Haiti. It shows the band perform their track 'Here Comes The Night Time' in the video.
The band played in the Caribbean country in 2014 during their world tour in support of their 2013 album Reflektor. Footage of the band in Haiti was also shown in the band's recent movie The Reflektor Tapes which sees the band performing on their world tour.
While they were in Haiti, Arcade Fire visited the annual carnival in the Sud-Est commune of Jacmel. The footage of them performing was taken by the Artists Institute who recently released the video.
The band have strong connections with Haiti, with member Régine Chassagne's parents originating from the country before emigrating to Canada where she was born. They also have a song on their debut album Funeral named 'Haiti'.
Arcade Fire members Win Butler and Regine Chassange even had plans to open their own Haitian-themed restaurant in Montreal. Speaking about it last summer, Win Butler said "[The restaurant is] more of an art project. The idea is that it's a cultural space. The thing that we were really impressed with at Rhum Corner is that it's this space for Haitian and Caribbean culture and it's really cool and contemporary."
You can check out the clip of Arcade Fire performing their track 'Here Comes The Night' in Haiti down below.
Photo Credit: meron