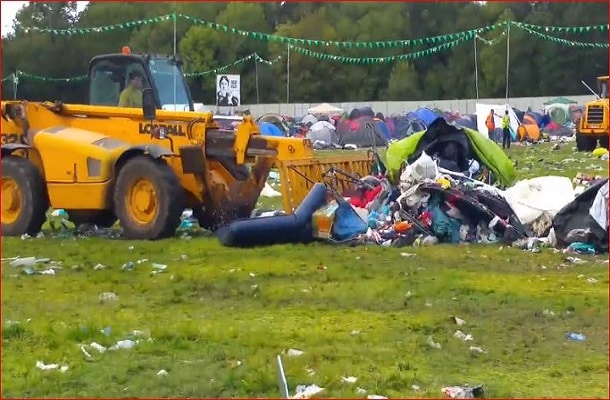 Bulldozers had to be called in to clear up thousands of leftover tents and rubbish left behind at the Electric Picnic location in Stradbally yesterday.
One revealing video filmed by Edward Rice, documents two bulldozers ploughing through the Oscar Wilde campsite cleaning up the tons of litter. The rubbish was then transferred straight to a landfill site.
Rice also filmed the Jimi Hendrix campsite where he estimates that 30,000 tents were abandoned. Bear in mind this doesn't include the Janis Joplin and Andy Warhol sites, which he also recorded.
Over nearly 600 tonnes of waste, including beer cans, mattresses, food wrappers, chairs, inflatable, clothing – including shoes and coats will all go into a landfill/incinerator after the Picnic.
Despite the fact that there were charity groups and volunteers at Electric Picnic, there to salvage materials left behind after the festival, the volume of items was too much for volunteers to cope with.