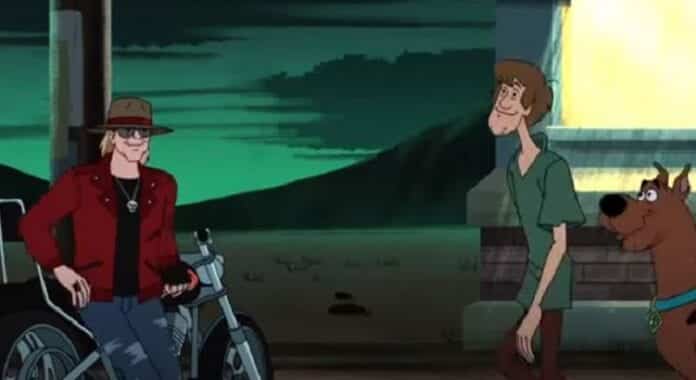 Guns N' Roses' frontman Axl Rose has made a guest animated appearance in the latest episode of Scooby Doo and Guess Who?
Fred, Velma, Daphne, Scooby and Shaggy are taking a trip across Route 66 in the latest episode. Things take a turn for the worse when evil villains steal the Mystery Machine.
Then, the gang head to a diner to use Wi-Fi and they spot Axl Rose. The gang then call Rose "singer, songwriter, musician and total rock God, Axl Rose."
It then transpires that Axl Rose is a long time friend of Scooby and Shaggy as they flash Rose the horns and the three perform their secret handshake.
Consequence of Sound report that the Guns N' Roses' singer plays a pivotal role in helping the gang defeat the villains.
You can check out a brief clip of his cameo here.
The episode will air in America on Thursday on Boomerang. In Ireland, Boomerang is currently airing the second season of Scooby Doo and Guess Who?
Keep an eye out on their listings over the next few weeks as they are currently a few episodes behind the American schedule.
This isn't the Rose's first appearance in a cartoon. The singer appeared in an episode of Looney Tunes where he asked Bugs Bunny for directions to a concert Rose is with his fictional band, 'Steel Underpants'.
That episode of the Looney Tunes featured a piece of music called 'Rock The Rock' which was the first new music from Axl Rose in over 10 years.
Many musicians have appeared in cartoons before with the likes of U2, Metallica, Tom Petty, Mick Jagger and many more appearing in The Simpsons while James Hetfield once voiced a character for American Dad and Robert Smith had a guest role in season one of South Park.
In other South Park news, they have announced a new hour-long vaccination episode. You can check out Radio Nova's report on it here.