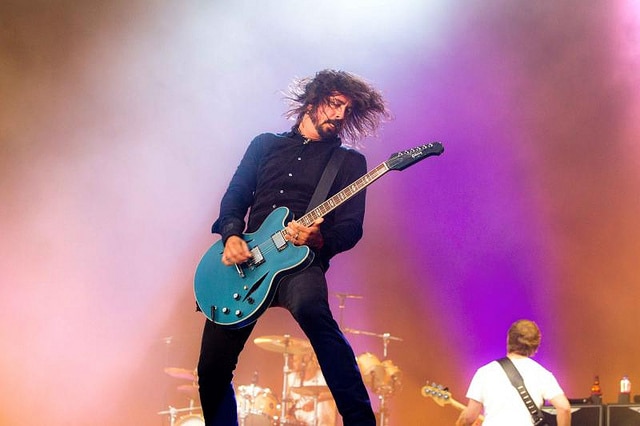 Foo Fighters frontman Dave Grohl performed from a throne last Saturday night at their 4th of July gig. Grohl broke his leg falling from a stage last month in Sweden, but they vowed to continue their North America tour.
Foo Fighters had to cancel their two shows in Wembley Stadium and their headline spot at Glastonbury. After cancelling the rest of their European tour, they recently announced that they would be going ahead with their North America leg of the tour (pun intended).
They returned to the stage on Saturday night, playing a special 20th anniversary gig at the Robert F. Kennedy Memorial stadium in Washington DC. Grohl took to the stage playing on top of a throne with guitars and amps surrounding him.
The bill featured a number of support acts, including Heart, RDGLDGRN, Trombone Shorty, Joan Jett and the Blackhearts, Gary Clark Jr, LL Cool J, Buddy Guy and Trouble Funk.
The show included all their classic anthems as well as some unexpected numbers such as a cover of 'Under Pressure' by Queen and David Bowie. Grohl was also joined on stage by his own mother for one of their older songs 'For All The Cows'.
You can check out some videos of Grohl performing on his throne down below.
Photo Credit: Ben Houdijk