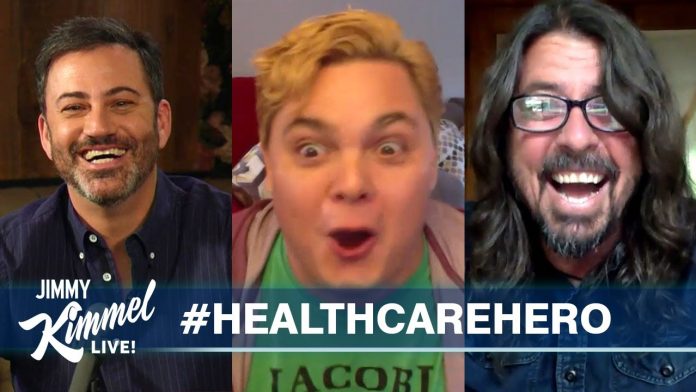 Foo Fighter's front man Dave Grohl really is the man of the moment when it comes to lifting people's spirits, as we navigate through this pandemic.
It was only last week that Grohl, along with a host of famous artists, took part in a star-studded cover version of his hit song 'Times Like These' for BBC Radio 1's Live Lounge.
Last night Grohl appeared as a surprise guest on 'Jimmy Kimmel Live!' where he surprised TJ Riley, a New York trauma nurse from Jacobi Medical Center in the Bronx, who survived Covid-19, by performing a stripped back version of the band's 1997 hit 'Everlong' on a video call to him.
The feature is a part of the show where Kimmel has been honouring a healthcare hero each week during the coronavirus.
Riley a super fan of the Foo Fighters was in shock when Grohl flashed up on the screen "I'm going a little out of my mind right now. I think I'm having a coronavirus dream," Riley said.
You can see the video here:
Video Crd : Jimmy Kimmel Live