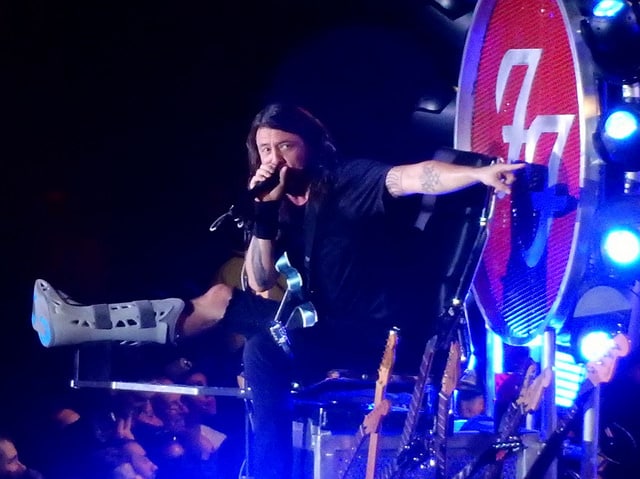 Dave Grohl recently challenged none other than Animal from the Muppets to a drum battle. It featured at the close of episode 9 of The Muppets, 'Going Going Gonzo'.
The clip begins with Grohl and Animal giving each other a few cheeky verbals, before bashing their kits and eventually scattering their drums across the stage area.
News of Dave Grohl's battle came out a couple of weeks ago, with Grohl billed as a 'nemesis' for Animal, after he 'took his place' in the 2011 film The Moopets.
Foo Fighters recently released a five track EP called the Saint Ceclia EP which is available to download for free from their website. Along with the release they also gave people the opportunity to donate to those families that were affected by the Paris Attacks.
As Dave Grohl said in a statement about the EP "We hope that even in the smallest way, perhaps these songs can bring a little light into this sometimes dark world. To remind us that music is life, and that hope and healing go hand in hand with song. That much can never be taken away."
You can check out the drum-off between Dave Grohl and Animal down below.
IT'S ON! – THE ULTIMATE DRUM OFF – Foo Fighters' Dave Grohl vs…VIDEO: IT'S ON! – THE ULTIMATE DRUM OFF – Foo Fighters' Dave Grohl vs The Muppets' Animal – Video Credit: Joel AttenboroughFoo Fighters' Dave Grohl To Face Animal In A Drum Off on 'The Muppets' – Dave vs Animal (Kermit Refereeing) – https://www.musicology-online.co.uk/article/foo-fighters-dave-grohl-to-face-animal-in-a-drum-off-on-the-muppets-dave-vs-animal-kermit-refereeing

Posted by Musicology Online on Tuesday, December 1, 2015
Photo Credit: slgckgc