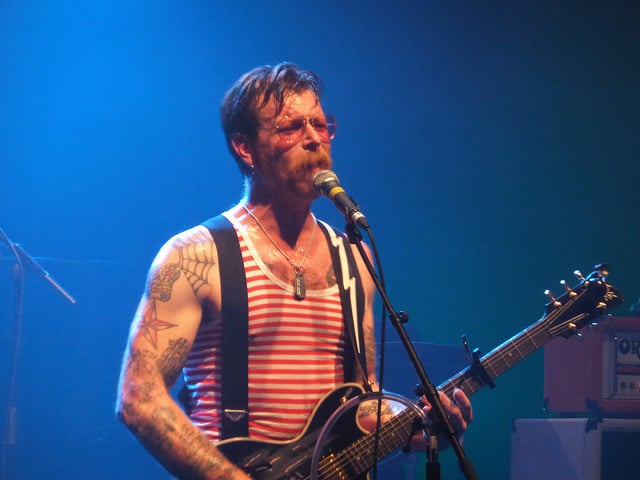 Eagles Of Death Metal made their return to Paris last night (February 16th). They returned to the city three months after terrorist attacks took place there.
On November 13th, 2015 four Islamic militants stormed the Bataclan Theatre during an Eagles of Death Metal concert, killing 89 people – including merchandise manager Nick Alexander. Eagles of Death Metal later vowed to play another concert in Paris for the survivors of the attacks.
Le Bataclan is still closed following the attacks, so Jesse Hughes and his bandmates – including Josh Homme – headlined the L'Olympia Bruno Coquatrix yesterday, fulfilling their promise to complete the interrupted gig.
Eagles of Death Metal frontman Jessse Hughes opened the concert by saying to the fans "Bonsoir Paris, we're ready for this." It was an emotional return for the band who were devastated after what happened back in November.
A number of weeks after the attacks, Eagles of Death Metal were interviewed about what happened. They were clearly distraught and promised that they would eventually go back to Paris and play there again.
Jesse Hughes said during the interview "Our friends went to see rock and roll and died. I want to go back there and live. I cannot wait to get back to Paris and play."
You can watch Eagles of Death metal perform in Paris here.
Photo Credit: Lee Byway