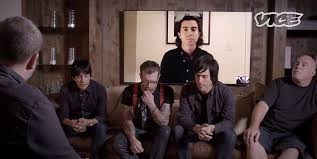 Eagles Of Death Metal have given an emotional interview for the first time since the Paris terror attacks, pledging to return to play the venue that was the scene of horror almost two weeks ago.
Just days after playing The Olympia Theatre in Dublin, the band were mid-set on stage at Paris's Bataclan Theatre when gunmen burst in and started shooting, killing 89 music fans.
In their first interview with Vice, the band says everyone had been having a great time, and when the noise of gunfire started they initially thought it was something technical malfunctioning. When they realised what it was, they ran for their lives.
Lead singer, Jesse Hughes was the most emotional throughout the chat, and his first thought was to find his girlfriend, Tuesday.
Guitarist Eden Galindo ran up to the dressing room and was followed by some fans. They were holed up there with a bottle of champagne to use as a potential weapon.
Shawn London, the sound engineer was on the floor at the back, right near the door and narrowly missed being shot when a gunman sprayed bullets in his direction.
The band said when they finally got out, fans were just hanging around on the street in disbelief, not sure what to do, and had to be told to run.
Co-founder of the band, Queen's of the Stone Age's Josh Homme, also joined the interview, where Jesse vowed to return to the Bataclan to play there once again.
Watch the full interview here.