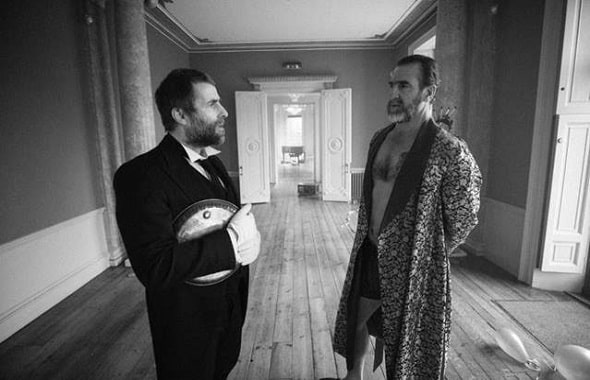 Liam Gallagher and Eric Cantona. Although they're separated by the blue of City and the red of United, they're kindred spirits: two Manchester icons whose talent, uncompromising style and sheer force of personality made them heroes to millions.
Naturally, they're fans of each other's work, which is how Eric Cantona came to star in Liam Gallagher's new video for 'Once'. It's part of LG's new intimate Acoustic EP.
Captured in one continuous shot, the video features Eric Cantona as the The King. Eccentric and debauched, The King exudes charisma with his every move demanding the viewer's attention. Meanwhile, Liam Gallagher – the greatest frontman of his generation – uncharacteristically steps away from the spotlight as The Butler.
Directed by Charlie Lightening ('As It Was'), the video encapsulates the message of the song – a nostalgic yearning for a once-in-a-lifetime moment that can't ever be replicated. But it's also a celebration of everything that was achieved.
"I'm absolutely thrilled to have Eric Cantona, the last rock 'n' roll footballer, star in my video for 'Once'," said Liam.  "Songs like this don't come around very often and neither do football players like him."
Eric Cantona expressed his love for 'Once' in a widely shared Instagram post, noting "When two Manchester legends meet. 'Once' is my song of the year."
Taken from the #1 album 'Why Me? Why Not.', 'Once' has become a fan favourite and was a highlight of Liam's recent sold-out UK arena tour. Liam considers it to be one of his best songs and that magic is evident in the track's intimate original demo. That early version of 'Once' features on the new 'Acoustic Sessions' EP.
Liam commented, "This is the original demo. It's my favourite version; it's silky smooth and it's fizzy bubblech. Turn off your mind, relax and float downstream!"
The rest of the EP compiles poignant, stripped-back versions of highlights from 'Why Me? Why Not.' ('Now That I've Found You', 'Once', 'Alright Now' and 'Meadow') alongside fresh takes on the Oasis classics 'Cast No Shadow' and 'Stand By Me'.
An unexpected inclusion is 'Sad Song', a song with an unusual history. The original became a cult favourite after featuring as a bonus track on 'Definitely Maybe', but a version fronted by Liam was only uncovered in the 2016 documentary 'Supersonic'. Liam heightens its sombre atmosphere, infusing the key lyric "We're throwing it all away" with a surge of emotion.
'Acoustic Sessions' tracklist:
'Cast No Shadow'
'Now That I've Found You'
'Alright Now'
'Sad Song'
'Stand By Me'
'Once'
'Meadow'
'Once' (original demo)
Liam commences a European headline tour on Sunday, with select international festival dates following in the summer. He's already confirmed the following huge UK outdoor shows and festival headline appearances:
JUNE
12th – Manchester, Heaton Park (SOLD OUT)
JULY
11th – TRNSMT
18th – Latitude
AUGUST
19th – Belfast, Boucher Playing Fields
28th – 30th – Reading and Leeds Festivals
(Photo by Charlie Lightening)