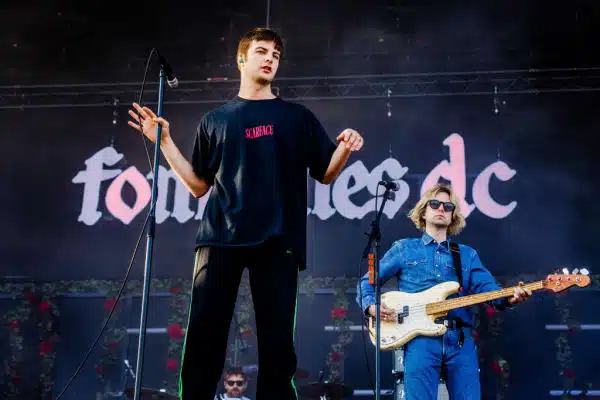 Would you like to listen to the article instead of reading it?
Over the weekend, Fontaines D.C lead singer Grian Chatten made his debut as a solo singer on Jools Holland's TV special.
The singer performed his latest single 'Fairlies', the follow up tune to his debut release 'The Score', which arrived in April.
The songs are to feature on Chatten's upcoming debut album 'Chaos For The Fly', which will be release on June 30.
This album released by Chatten, will be produced by Dan Carey, who has also worked on all three Fontaines D.C albums so far.
You can watch Grian Chatten as he rocks the stage on 'Later….With Jools Holland' below.
"I wrote 'Fairlies' in intense heat," Chatten said of his recent release. "Partly in Jerez, Spain, partly in LA a couple of days before a Fontaines D.C. tour kicked off. It was a quick write, and I believe I celebrated each line with a beer".
"came to me on the waves"
Speaking on his solo project, Grian Chatten explained that the idea came to him while walking along Stoney Beach one day.
"I was walking along Stoney Beach at night and it came to me on the waves. I just stood there and looked at them and I heard the whole fucking thing. Every part of it, from the chord progressions to the string arrangements", Chatten said.
"I just thought, 'I want to do this myself'," he continued. "I know where we as a band are going next and that's not where I want to go with this. I've got a couple of exaggerated aspects of my soul that I wanted to express".
He also added, "The rest of the band are all creative and songwriters in their own right too," Chatten said. "I didn't want to go to them and be like, 'No, every single thing has to be like this.' I didn't want to compromise with these songs in that way".
Chatten And Co Light Up The Brits
News of Chatten's solo career, comes months after Fontaines D.C won Best International Group at the Brit Awards earlier this year.
The band saw off competition from Tom Grennan, Arctic Monkeys and Nova Twins to claim this accolade.
Fontaines D.C were unable to accept the award due to their touring committments in Austrailia.