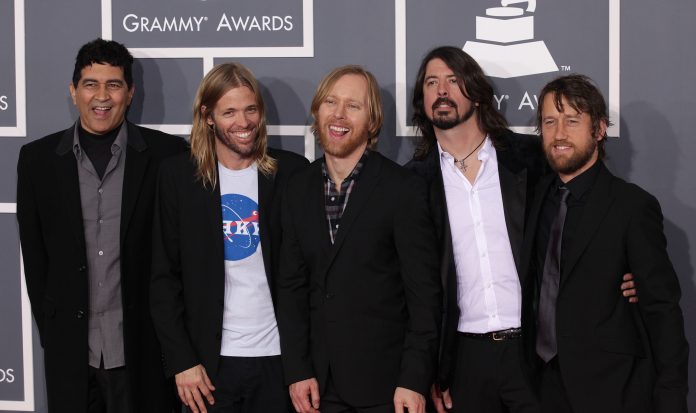 Foo Fighters performed an acoustic set at the famous L.A. venue The Troubadour this weekend for the Save Our Stages Festival event.
The event was held over three days and was organised by the National Independent Venue Association (NIVA). It aims to raise 5 million dollars in order to help independent venues survive through the pandemic. It also aims to bring a new bill to congress to protect venues across America. Campaigns and events have been organised by the NIVA throughout the year.
Foo Fighters played a half hour set that included five songs. A lengthy version of 'Skin and Bones', 'My Hero', 'These Days', an emotional 'Time Like These' and 'Everlong' which Dave Grohl performed solo.
You can watch the full concert below.
Last month, Foo Fighters started their support for the Save Our Stages campaign, organised by NIVA. The rockers brought back two t shirts from their 1995 tour. Proceeds went to the UK initiative, Save Our Venues and the US, Save Our Stages.
The shirts included the original 'Roswell Alien Design' that were originally put on sale to commemorate two Foo Fighters concerts: one at King's College in London and another performance at the Jambalaya Club in California.
Before and during the concert, Grohl spoke to the audience at home and reminisced about his first time at The Troubadour. In 1987, he was in a band called Scream and they sneaked into the venue and met Bret Michaels from Poison.
Foo Fighters guitarist, Pat Smear, also talked about his first time at the venue and how a "punk rock riot" broke out at The Go-Go's concert.
"Each of us have had pretty amazing experiences at this club, but there are lots of smaller venues like this around the world that need your support right now" said Grohl.
He went on to say "These memories and these experiences that we had here were life-changing and formative experiences that inspired us to play music. I can only imagine there are millions and millions of other people just like us that have done the same and it's made their lives a better place. So, it's crucial that we do everything we can to make sure these venues survive in order to be there to inspire the next generation of musicians to go on and do beautiful things with their lives."
Over the course of the weekend, many acts performed at iconic venues across America. Miley Cyrus covered The Cranberries 'Zombie' at The Whiskey A Go-Go, The Roots played at New York's Apollo Theatre and Portugal. The Man played at the Crystal Ballroom. To check out the full lists of concerts and to watch them, click here.
The owner of The Troubadour, Christine Karayan said in a statement "During this shutdown, all the uncertainties we have and are experiencing have been very unnerving and have caused a high level of despair. That is why we are so happy and beyond grateful to all the fans and music community for banding together to help and to show their support and love to all the independent venues across the country. This is our light and hope in our time of darkness."