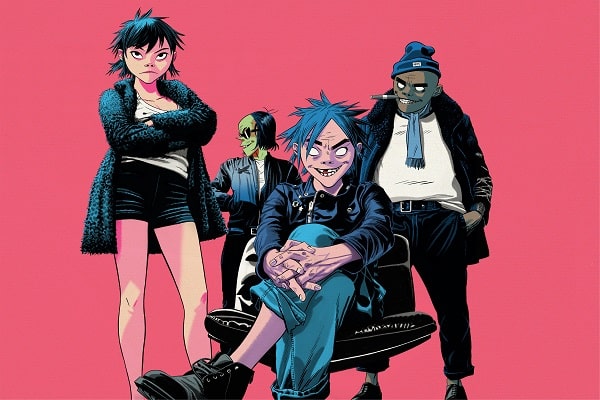 Gorillaz have shared another track 'Hollywood' from their forthcoming album The Now Now. The band will also give fans the chance to experience their new album performed in entirety via live stream. Full details below…
Following the previous three weeks' reveals of Hot 100 charting single and #1 Global Trending Video on YouTube 'Humility' and tracks 'Lake Zurich', 'Sorcererz' and 'Fire Flies', Gorillaz have hit up fans with another album highlight:'Hollywood'. It's the latest and last album cut to be made available prior to the release of The Now Now.
Recorded as a demo in a West Hollywood hotel room whilst on tour last year, the track features special guest Jamie Principle who was on tour with Gorillaz at the time, plus LA resident and long-time Gorillaz friend and collaborator, Snoop Dogg.
Gorillaz will also play The Now Now live – for the first time – this weekend in Tokyo, Japan. Watch on Sunday, June 24th at 8pm BST to experience the show with a unique combination of sound and visuals streamed in collaboration with pioneering global platform Boiler Room, the stream will be available on demand for 24 hours only – check Gorillaz.com for further details.
Meanwhile, Murdoc Niccals – the Gorillaz lynchpin currently incarcerated at HM Prison Wormwood Scrubs, London – has already exchanged over eight million messages with #freemurdoc campaigners around the world from his perch inside 'The Scrubs'. All part of Niccals' ongoing plot to gather information behind his false imprisonment for smuggling.
With the help of a multi-platform chatbot, concerned fans can converse with Murdoc – via voice or text – to hear from the man himself on what exactly they can do to help him break out of prison to restore his rightful place in the band, alongside 2D, Noodle and Russel.
The Now Now is the new 11-track studio album from the World's Most Successful Virtual Act*. Produced by Gorillaz, with James Ford and Remi Kabaka, and recorded entirely at Studio 13, London in February this year, The Now Now is set for release on June 29th on Parlophone.