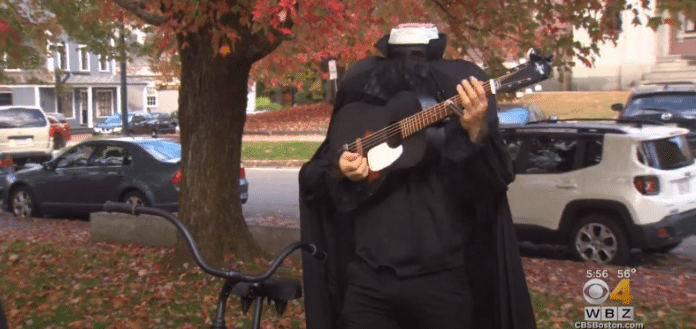 With lock down and the upcoming presidential election, we could all do with a laugh. With that in mind, have you ever seen a headless horseman ride a bicycle and play the guitar at the same time?
Boston native, Matthew Dunkle has been entertaining locals in his hometown of Concord. Since 2015, Dunkle has been riding his bike in wacky costumes along with props which has made him a local celebrity. You can check his Facebook here for more information.
Watch the video of the headless horseman below!
Speaking to the Boston Globe newspaper, Dunkle said "I started getting some good responses from people and enjoyed doing it. I thought it would be sensational, someone riding around without a head."
In 2015, Dunkle was going through a tough spell. He was divorcing his partner and one of his grandparents had died. Wanting a way to cope with it, Dunkle donned a pair of red trunks, a Santa hat and started singing Christmas carols. It was July.
Speaking about the headless horseman costume, Dunkle said "It just feels like we are kind of in the dark right now. We are all just running around with our heads cut off."
Some of the songs he plays on guitar are Nirvana's 'Smells like teen spirit', Deep Purple's 'Smoke on the water' and 'Wild Thing' by The Troggs.
Most onlookers tend to enjoy Dunkle's antics. He did have one local say to him "Don't you think you should be wearing something upbeat? That's a little macabre."
Dunkle's outfit also honours some local history unintentionally. The local burial ground in Concord is called 'Sleepy Hollow Cemetery', and this years marks the 200th anniversary of the Washington Irving novel 'The Legend of Sleepy Hollow'.
In what has been a strange year, a headless horseman riding a bike and playing the guitar offers a much needed laugh.