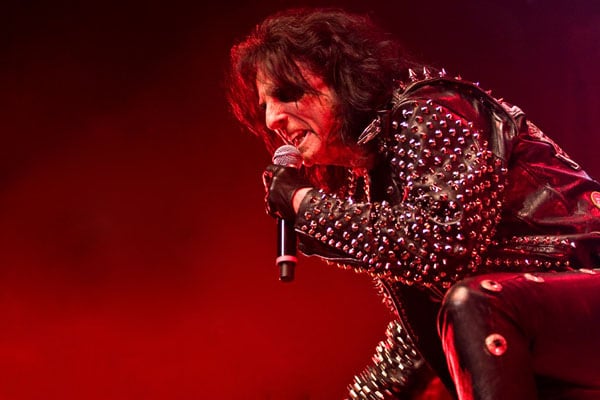 Supergroup Hollywood Vampires performed their first gig together on Wednesday night . The group fronted by Alice Cooper played their first gig at The Roxy in Los Angeles.
Founders Alice Cooper and Johnny Depp were joined by an all-star cast which included Aerosmith guitarist Joe Perry as well as Guns N' Roses' Duff McKagan and Matt Sorum on bass and drums.
They were also joined by countless others as the line up was rotated for different songs. The Who's touring drummer Zak Starkey appeared for a version of The Who's 'I'm A Boy'. Black Sabbath's Geezer Butler and Rage Against The Machine's Tom Morello also appeared for Jimi Hendrix's 'Manic Depression'.
Hollywood Vampires were also joined by Jane's Addiction's Perry Farrell who sang lead vocals on Nilsson's 'Jump Into The Fire'.Ke$ha also arrvied to sing Led Zeppelin's 'Whole Lotta Love' backed by Alice Cooper on harmonica. She later re-appeared with Tom Morello and Perry Farrell for a cover of Cooper's 'School's Out' which ran into Pink Floyd's "Another Brick In The Wall'.
The group recently released their debut album Hollywood Vampires last week on September 11th. It featured covers of some of their favourite acts, with the first of these 'My Generation' being released in the run up to the album launch.
You can check out Hollywood Vampires' version of 'My Generation' during their first gig together down below.
Photo Credit: Focka