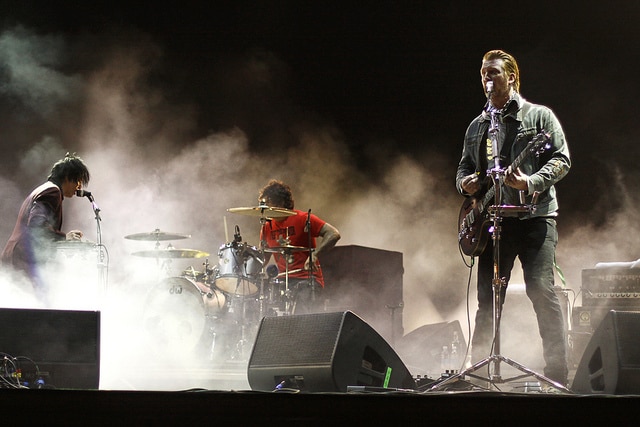 Last night in the intimate Koko venue in London, The Eagles Of Death Metal played a gig with Queens of the Stone Age frontman Josh Homme on drums. A number of special guest were also said to be in attendance which included Alex Turner, Iggy Pop and Duff McKagan.
Homme originally formed the band with Jesse Hughes in 1998, but due to other engagements with QOTSA, he stopped playing with them. They recently announced their new album Zipper Down along with a new single 'Complexity' which sees Homme and Hughes dress up as if they were members of  Star Trek for the single's new poster.
Reports from their show last night stated that there were numerous specials guests at the show, including the aforementioned Alex Turner, as well as his former partner in crime Miles Kane. The set was a mix of the band's three previous albums including their new track 'Complexity' and a cover of 'Stuck in the Middle' by Stealers Wheel's.
They announced that the new album will be released on October 2nd. They also announced that they will be playing a string of shows across the UK, but have yet to announce any dates in Ireland for this year.
Photo Credit: Felipe Neves