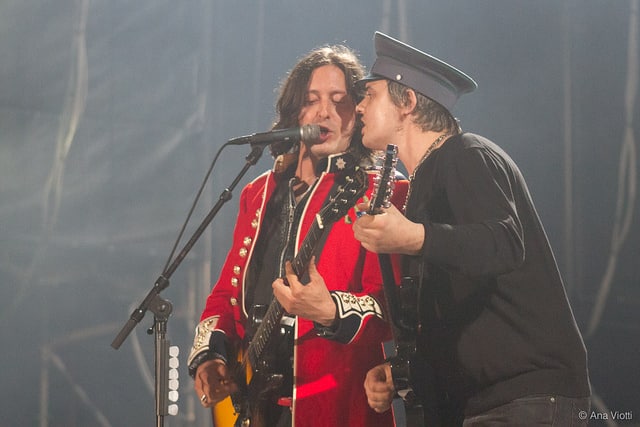 The Libertines recently played a new track titled 'Gunga Gin' at the Best Kept Secret festival in The Netherlands. They played last Friday night at the festival, which took place in the small town of Hilvarenbeek.
Near the end of the set the band played the first track off their upcoming third album. Both Pete Doherty and Carl Barat poked fun at each other saying they wanted to play new songs but the other wouldn't allow it. Doherty said "I said we should play some new songs but they said we shouldn't play any 'til the album comes out", before Barat mimicked him.
Before the band played the new song Barat told fans "We're going to give you one but it's got to be a secret. Put your phones off and we'll see how it turns out." Obviously his word had no effect, as a video has recently emerged online of the band playing their new track.
"She'll die, she ain't ready!" Barat proclaimed as they began to play their new track. The songs opens with "Woke up again to my chagrin/I'm sick and tired of feeling sick and tired" sang by Pete Doherty. You can watch the video in full down below.
Photo Credit: Side Stage Collective