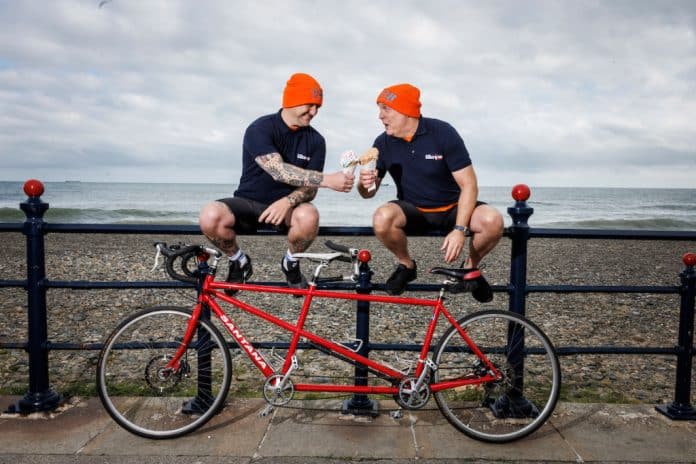 SCROLL DOWN TO SEE THE ROUTE AND FOLLOW PJ & JIM'S CYCLE LIVE WITH THE TANDEM TRACKER
On Friday October 28th, Radio Nova's Morning Glory duo: PJ Gallagher and Jim McCabe are set to embark on their epic 30km tandem cycle from Hill 16 in Croke Park to Bray Head. The much-loved presenters will be setting off from Croke Park via St Joseph's Ave entrance/exit gate at 9am and finishing at Bray Head that afternoon.
IMRO Radio Award winning DJ of the Year Dee Woods will be taking over the airwaves whilst PJ and Jim go tandem, tracking their progress and raising awareness for Jack and Jill Children's Foundation.
You can catch the lads:
At 9am Leaving Croke Park, St Joseph's Avenue entrance/exit, D03 HN53
At Circle K Martello, 143 Strand Road, Dublin 4, D04 W3C4 (eta between 9.30am-10.30am)
At Circle K West Pier, Crofton Rd, Dún Laoghaire, Co. Dublin, A96 W0H4 (eta between 10am-11am)
At Circle K 3 Ulverton Rd, Dalkey, Co, Dublin, A96 A4N8 (eta between 10.30am and 11.30am)
At Circle K Beechwood, Dublin Road, Bray, A98 EK25 (eta between 12pm and 1pm)
At the Finish Line, Car Park Bray Head, Raheen Park, Newcourt, Bray, Co. Wicklow (eta 230pm)
This year's #UpTheHill2022 challenge sees PJ doubling his 2021 heroic cycle on a penny farthing, which also won an IMRO Radio Award, with twice as many kilometres, twice as many hours, and his co-host along for twice the fun/pain!
Circle K will be showing their support by offering free tea/coffees for one hour periods to coincide with the guys' pitt stops at the respective forecourts.
Speaking of his upcoming 'Hill to Hill' challenge, PJ Gallagher said, "Anyone can take part in this challenge, you can walk up a molehill, you can build your own hill, climb an actual hill, climb a mountain. Anything you can do to help Jack and Jill is fantastic. And if you can't do your own challenge, please support ours!"
Jim McCabe said of taking more of a central role this year, "Jack and Jill is such a great charity. The funds raised from last year's challenge helped them reach record highs with the amount of kids and families they were able to help and it makes it really worthwhile."
Jack and Jill is asking people in every county to support local families in their community by going 'Up the Hill for Jack and Jill'. You can climb any hill, any day, anywhere and by any means. Whether you go high or go low, it's the taking part that keeps Jack and Jill on the go! Register today for just €18 per person at JackandJill.ie and support one hour of specialist in-home nursing care for a local Jack and Jill family.
REGISTER YOUR CHALLENGE AND GET ON BOARD AT WWW.JACKANDJILL.IE OR DONATE WHATEVER YOU CAN TO THE JACK & JILL CHILDREN'S FOUNDATION BY CALLING 045 894 660