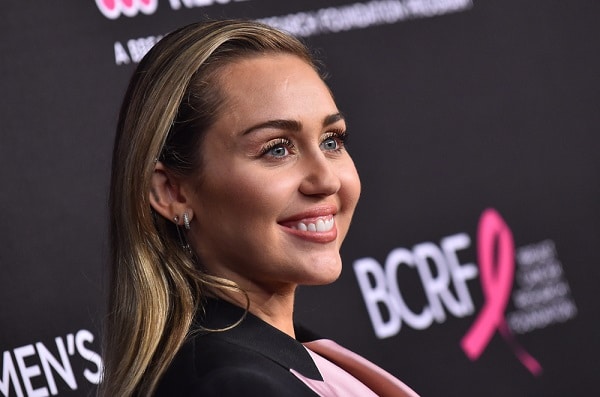 Miley Cyrus sang covers of two classic Queen tracks "We Will Rock You" and "Don't Stop Me Now". The singer covered these songs whilst performing at the NCAA men's basketball Final Four last Saturday.
The singer wore all black and huge sunglasses. Her accompanying live band played a heavy, hard rock riff with a sample of "We Are The Champions". A medley of Queen tracks played as she walked on stage.
She also covered Stevie Nicks' "Age of Seventeen" as well as Blondie's "Heart of Glass". She has also previously covered tracks from Metallica, The Cranberries and Pink Floyd.
Check out the full performance here.
https://www.youtube.com/watch?v=1AOIyawlC1E
In February, Cyrus kicked off the Super Bowl weekend with a Tik Tok Tailgate pre-game show. Cyrus performed in front of 7,500 health care workers and fire respondents who were vaccinated against Covid-19. More on that report from Nova here.
May & Taylor on how they almost left Queen
Speaking of Queen, we also reported recently that Brian May and Roger Taylor almost left the band, having had their heads nearly turned by other suitors. May almost joined Sparks, while Taylor came very close to joining Genesis.
This was all before the arrival of a certain Freddie Mercury and well the rest is Rock and Roll history, as they say!
"Sparks approached me," May said.
Adding, "It was after they had their major hit, 'This Town Ain't Big Enough for the Both of Us,' and we'd just had 'Killer Queen' out. The two brothers  came round my flat. They said, 'Look, Brian, Queen isn't going anywhere, you're not going to have any more hits, but we're going to conquer the world.' And I went, Thanks, but no thanks. I think I'm fine".
Meanwhile, Taylor said that he felt that Genesis' outlook on music, differed from his.
Taylor told Classic Rock, "They're all lovely people. But I didn't really get the music, to be honest. It was a bit too prog for me. I had a wonderful offer from Mick Ronson and Ian Hunter actually. It was going to be called Hunter Ronson Taylor. I think that would have been good".
You can read that and more in Nova's report here.