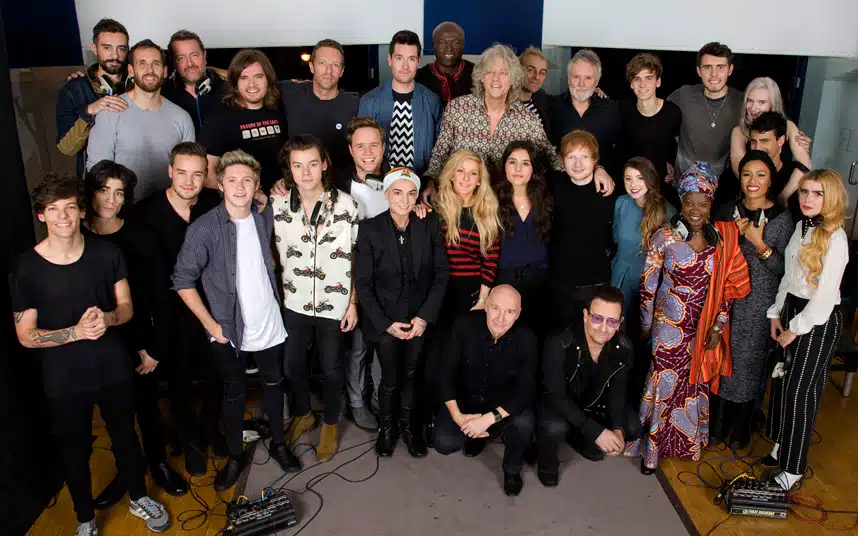 The official Band Aid 30 'Do They Know It's Christmas? (2014)' video premiered last night during an episode of the X Factor.
Musicians such as Coldplay's Chris Martin, Ed Sheeran, Sam Smith, Queen's Roger Taylor, Elbow, Sinead O'Connor and Bono all feature on the single.
Bob Geldof spoke very passionately before the video was unveiled, urging people to purchase the new single. All the money raised from sales of the track will go towards the fight against Ebola in Africa.
Some of the lyrics from the original song are altered, such as the references to hunger, to reflect the new cause.
Geldof said: "We know we can contain Ebola; we have the doctors, the nurses, medicines and state systems, we have money. [People are] dying again because they are extremely poor. That is radically unacceptable."
He added: "It really doesn't matter if you don't like this song, it really doesn't matter if you hate all the artists. What you have to do is buy this thing."
The Band Aid single sleeve was designed by controversial English artist Tracey Emin. The cover features different coloured neon lights bearing the words: "Faith, love, trust. You, me, and the world."
There is also a Band Aid 30 app available to download called BandApp. It allows fans to get a behind-the-scenes look at the recording of the new 'Do They Know It's Christmas?' track.
The app is free to download but it will offer a a pay section, to gain access to exclusive Band Aid 30 content, with all the proceeds going towards the Band Aid Trust.
Watch the video 'Do They Know It's Christmas? (2014)' below.
Band Aid 30 lyrics:
It's Christmas time, and there's no need to be afraid
At Christmas time, we let in light and banish shade
And in our world of plenty, we can spread a smile of joy
Throw your arms around the world
At Christmas time
But say a prayer, pray for the other ones
At Christmas time, it's hard but while you're having fun
There's a world outside your window, and it's a world of dread and fear
Where a kiss of love can kill you, and there's death in every tear
And the Christmas bells that ring there are the clanging chimes of doom
Well tonight we're reaching out and touching you
No peace and joy this Christmas in West Africa
The only hope they'll have is being alive
Where to comfort is to fear
Where to touch is to be scared
How can they know it's Christmas time at all
Here's to you
Raise a glass to everyone
And here's to them
And all their years to come
Let them know it's Christmas time after all
Feed the world, let them know it's Christmas time again
Feel the world, let them know it's Christmas time again
Heal the world, let them know it's Christmas time again