The definitive chronicle of original Rolling Stone Brian Jones is headed to DVD and major streaming outlets on June 12th.
Rolling Stone: Life And Death Of Brian Jones by Danny Garcia is clearly not sanctioned by the Rolling Stones, and features no original music, but what it does have is people who knew Jones throughout his life.
The film has just wrapped up a run of successful screenings across the North America, Europe, and South America after a December world premiere in London at the Regent Street Cinema.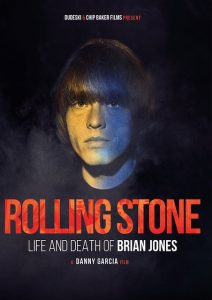 DID YOU KNOW? Brian Jones was a blues enthusiast and had an ability to play any instrument seemingly within minutes of picking it up.
Jones also both named and led the original group, which included Mick Jagger, Keith Richards, Charlie Watts, Bill Wyman, and keyboardist Ian Stewart.
However Jones began losing control of the group when Jagger and Richards began their songwriting partnership in 1965.
By '66, Jones' mental state and drug abuse had become a liability to the Stones. He frequently missed tour dates and recording sessions and was barely able to stand up  when he did attend. He was fired on June 8th, 1969 and drowned under suspicious circumstances less than a month later.
Jones died at the age of just 27 after making his mark on rock music history.
The Rolling Stone Life And Death Of Brian Jones DVD includes such bonus features as — a film poster; 57 minutes of deleted scenes; exclusive behind the scenes bonus footage, a Scott Jones extra featurette; and the film's official theatrical trailer.
The Original Motion Picture Soundtrack album will be a limited edition run of 1,000 copies only and will be pressed on red vinyl.
Tracklisting:
The Proper Ornaments – "1969"
Greg 'Stackhouse' Prevost – "Ain't Nothing Here To Change My Mind"
Dick Taylor & The Red Squirls – "Edith Groove"
Ray 'Sonic' Hanson's Whores of Babylon – "Dusted"
Deadbeat Poets – "Riding The Dog"
J.M. Baule – "The Path Of The Meeting"
Dick Taylor & The Red SquirlS – "14a Chestnut St."
Steve Hooker – "Tighten It Rough"
John Perry – "Brian"
Alabama 3 – "(I'll Never Be) Satisfied"
The Bermondsey Joyriders – "Brian Jones (The Real True Leader Of The Rolling Stones)"
The Primadonna Reeds – "Glitter Girl"
John Roome – "Muddy Waters"
You can pre-order the DVD here, and the soundtrack here.