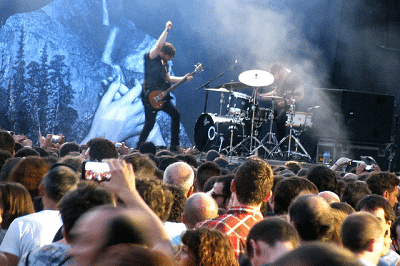 English rockers Royal Blood unveil their new music video for the track 'Ten Tonne Skeleton', taken from the band's hugely successful self-titled debut.
The video comes out at the perfect time of the year, it has a Halloween feel to it.
It's dark, suspenseful and shows characters running away from something or someone, as the group perform in the woods.
Royal Blood released their self titled debut album in August. The ten track LP may be short, clocking in at only thirty-two minutes, but it packs a heavy rock punch. The group have been compared to the likes of The White Stripes, Queens of the Stone Age and The Black Keys.
The rock duo have garnered praise for their big riffs, thunderous pounding drums and fat distorted bass lines, basically they're pure rock. Mike Kerr told the BBC, "The philosophy behind this band was 'can a riff be a chorus?' Can you make verses, choruses and bridges – classic, standard songwriting – out of riffs, without it being disgusting?"
Not only did their album go straight into the number 1 spot but the band also achieved the fastest-selling rock debut in three years.
The Brighton rock duo managed to shift an impressive 66,000 copies in the first week, more than any rock debut. The first-week figures make it the highest-selling rock debut since Noel Gallagher's High Flying Birds' self-titled release in 2011.
They are a band that have to be experienced live. They've already played a sold-out show at the Workman's Club earlier this year and supported Arctic Monkeys in Marlay Park during the summer.
Royal Blood kick off their Autumn tour in Dublin at the Academy on October 27th.
Watch the video for 'Ten Tonne Skeleton' below.